2022 was the fifth or sixth warmest on record as the Earth warms
DENVER (AP) — The fever on Earth continued last year, not quite reaching a record high but still in the top five or six warmest on record, government agencies reported Thursday.
But expect record-breaking hot years soon, likely within the next few years because of "relentless" climate change from the burning of coal, oil and gas, US government scientists have said.
Despite a La Nina, a cooling of the equatorial Pacific that slightly lowers average global temperatures, the U.S. National Oceanic and Atmospheric Administration calculates the average global temperature for 2022 as 58.55 degrees (14.76 degrees Celsius), ranking the sixth highest since records began. NOAA does not include the polar regions due to data issues, but will soon.
If the Arctic – which is warming three to four times faster than the rest of the world – and Antarctica are included, it would be the fifth warmest, according to NOAA. NASA, which has long included the Arctic in its global calculations, said 2022 is essentially the fifth warmest with 2015. Four other scientific agencies or science groups around the world ranked the year as either the fifth or sixth warmest year.
NOAA and NASA records date back to 1880.
NASA Administrator Bill Nelson said the global temperature is "quite alarming… What we're seeing is our warming climate, it's a warning to all of us. Forest fires are increasing. Hurricanes are getting stronger. Droughts wreak havoc. The sea level is rising. Extreme weather patterns threaten our well-being on this planet."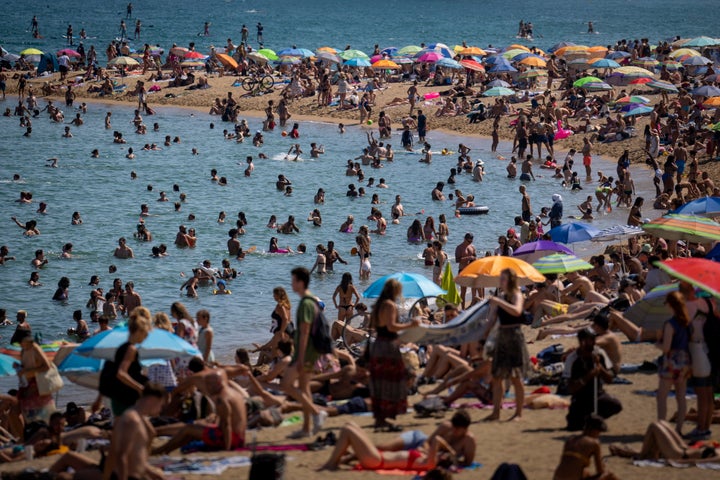 People cool off in the water on a hot and sunny day at the beach in Barcelona, ​​Spain, July 15, 2022. Earth's fever continued last year, not quite reaching a record high, but still among the top five or six warmest on record, government agencies reported on January 12, 2023.
AP Photo/Emilio Morenatti, file
Berkeley Earth, a nonprofit group of independent scientists, said it was the fifth warmest year on record, noting it was the hottest year on record for 28 countries including China, the UK, Spain, France, Germany and New Zealand.
Another group, whose satellite-based calculations tend to run cooler than other science teams, said it was the seventh warmest year.
Last year was slightly warmer than 2021, but overall, the science teams say the big problem is that the past eight years, starting in 2015, have been a step above the warmer temperatures the globe had endured. Every eight years is more than 1.8 degrees (1 degree Celsius) warmer than pre-industrial times, NOAA and NASA said. Last year was 2 degrees (1.1 degrees Celsius) warmer than it was in the mid-1800s, NASA said.
"The last eight years have definitely been warmer than previous years," said Russ Vose, chief of NOAA's analysis department.
In a human body, an extra 2 degrees Fahrenheit is considered a fever, but University of Oklahoma meteorology professor Renee McPherson, who was not on either study team, said global warming is actually worse than the equivalent of a planetary fever because fever can be treated to to sink fast.
"You can't take a pill, so the fixes aren't easy," McPherson said. "It's more of a chronic disease like cancer."
As with fever, "every tenth of a degree counts and things collapse and we see that," Bernadette Woods Placky, Climate Central's chief meteorologist.
The likelihood of the world exceeding the 1.5 degrees Celsius (2.7 degrees Fahrenheit) warming threshold assumed in 2015 is increasing every year, the World Meteorological Organization said. The United Nations Meteorological Agency said the past 10 years have been, on average, 1.14 degrees Celsius warmer than pre-industrial times. According to Vose, there is a 50/50 chance of temporarily reaching 1.5 degrees Celsius in the 2020s.
Vose and Gavin Schmidt, director of NASA's Goddard Institute of Space Studies, both said there is evidence of accelerating warming, but the data isn't robust enough to be sure. But the overall warming trend is rock solid, they said.
"Since the mid-1970s you've been seeing this relentless rise in temperature, and it's absolutely robust to all the different methods," Schmidt said.
La Nina, a natural process that changes the weather around the world, is taking place for the third year in a row. Schmidt calculated that last year's La Nina reduced the overall temperature by about a tenth of a degree (0.06 degrees Celsius) and that last year was the hottest La Nina year on record.
"Today's La Nina years are not yesterday's La Nina years," said North Carolina climate scientist Kathie Dello. "In the past, we could count on La Nina to turn down the global thermostat. Now, heat-trapping gases are keeping the temperature high, giving us another top 10 warmest year on record."
With La Nina likely dissipating and a possible El Nino on the way — contributing to warming — Schmidt said this year will likely be warmer than 2022. And next year, he said, watch for an El Nino .
"That would indicate that 2024 would be by far the warmest year on record," Schmidt said in an interview with The Associated Press.
Scientists say about 90% of heat trapped by greenhouse gases goes to the top 6,561 feet (2,000 meters) of the ocean, and figures released Wednesday show 2022 was another record year for ocean heat.
"There's a really good connection between the patterns of ocean warming, stratification, and then the weather that we experience in our daily lives on land," including stronger hurricanes and rising sea levels, said study co-author John Abraham of the University of St. Thomas.
In the United States, global warming first made headlines when Schmidt's predecessor, climate scientist James Hansen, testified in 1988 about worsening warming.
Now 1988 is the 28th hottest year on record.
The last year the Earth was cooler than the 20th-century average was 1976, according to NOAA.
But scientists say average temperatures aren't what really affects people. What is hitting and hurting people is how warming is making extreme weather events like heat waves, floods, droughts and storms worse or more frequent or both, they said.
"These trends should concern everyone," said Cornell University climate scientist Natalie Mahowald, who was not part of the study team.
WMO Secretary-General Petteri Taalas said in 2022 that these extremes "have undermined health, food, energy and water security and infrastructure. Large areas of Pakistan were flooded, with great economic losses and human casualties. Record-breaking heatwaves have been observed in China, Europe, North and South America. The prolonged drought in the Horn of Africa threatens a humanitarian catastrophe."
Follow AP's climate and environmental reporting at https://apnews.com/hub/climate-and-environment
Follow Seth Borenstein on Twitter at @borenbears
The Associated Press's climate and environmental reporting is supported by several private foundations. Learn more about AP's climate initiative here. The AP is solely responsible for all content.