5 hotels & resorts across Asia with farms
Hotels around the world continue to strive for sustainability and self-sufficiency, but these hotels in Asia take it a step further with their own farms and gardens. Make one of these hotels a part of your upcoming travel plans in Asia not only to enjoy fresher, more sustainable ingredients, but also to appreciate the effort that goes into these initiatives.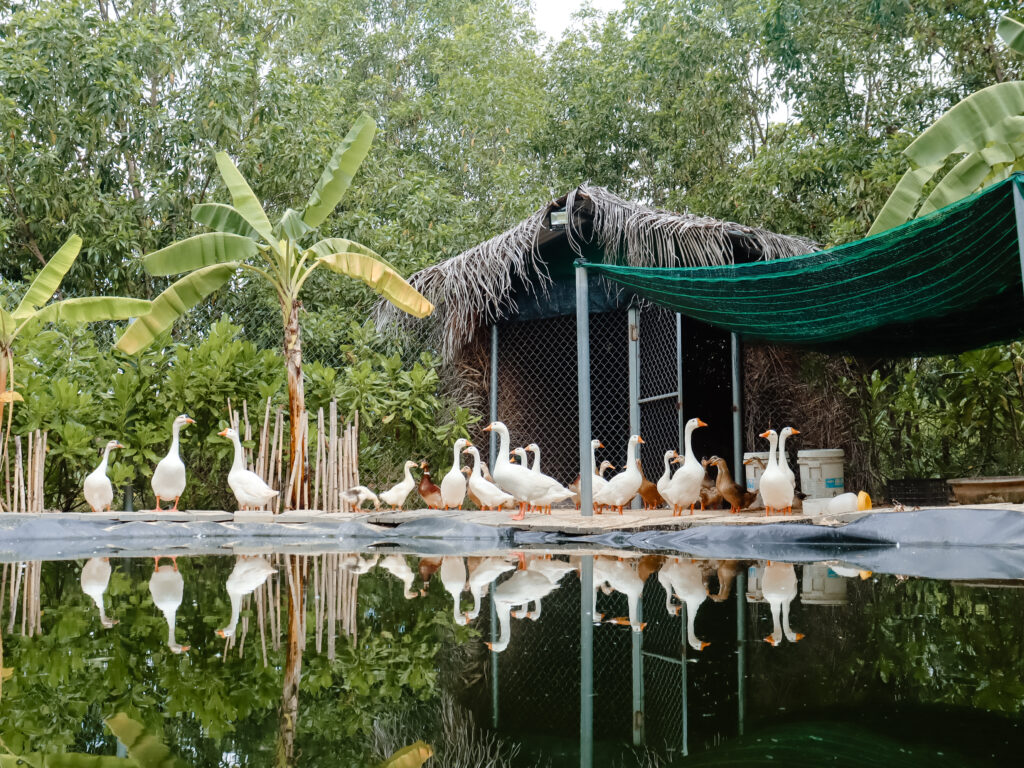 Anam Cam Ranh
This 5-star hotel in Vietnam has its own 91,500 sq. ft. property dedicated exclusively to vegetables, fruits, herbs, and chicken and duck eggs. Guests dining at the resort's Lang Viet Restaurant can enjoy these ingredients in a variety of dishes, including Malabar spinach, corn, mustard greens, and wild betel leaf, all of which are highlighted in the meals. Vegetables at the farm include lettuce, cucumber, spring onion and cassava root, while fruits such as pomegranate, papaya, banana, mango, cac fruit and bitter melon add sweetness to the dishes. Enjoy the freshest herbs, from basil to thyme, mint to coriander. In addition to chickens and ducks, geese, rabbits, goats, turkeys, peacocks and guinea fowl live on the farm.
Alma resort
This resort, also in Vietnam, transformed portions of its 30-acre resort into a nearly 11,000-square-foot nursery, a 3,000-square-foot chicken farm, and a 2,000-square-foot herb garden. The garden is full of bananas, coconuts, papayas, squashes, passion fruit, sunflowers and more and backs onto a chicken farm with hens, roosters and hens. Outside the resort's Atlantis beachfront restaurant, guests can discover an herb garden filled with red and green chillies, Vietnamese basil, lettuce, scallions, pak choi, white radish and more. Enjoy bananas and coconuts for breakfast before enjoying a fresh salad or fruit drink at Atlantis. The Italian restaurant, La Casa, serves traditional Caprese salad with tomatoes from the garden, accompanied by locally produced mozzarella.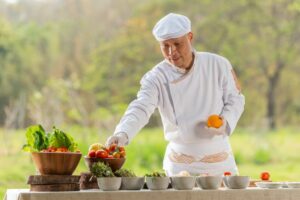 Melia Chiangmai
Aiming to promote healthy eating and sustainable practices, Mélia Chiang Mai launched the 360° Kitchen concept, where chef Suksant Chutinthratip creates dishes using produce from the hotel's organic farm, using every possible part of the ingredients used before composting leftovers. The hotel has also partnered with ORI9IN The Gourmet Farm in the San Sai District to grow many fruits, vegetables, and herbs such as different types of tomatoes and lettuce leaves, as well as special ingredients such as Padrón pepper, an ingredient that would otherwise be imported from Spain.
Melia Bali
Located on the coast of Bali's Nusa Dua, this hotel recently added beehives to its impressive organic garden. This introduction supports pollination, biodiversity and a healthy ecosystem. The hotel also features a Chef's Garden with a selection of vegetables, fruits, spices, herbs and much more.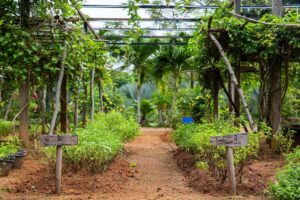 trisara
This exclusive retreat in Phuket, Thailand is home to Phuket's only Michelin-starred restaurant, PRU. In addition to this outstanding restaurant, the hotel is also home to Jampa, a zero-waste eatery that is leading the way in sustainable eating. PRU (an acronym for Plant. Raise. Understand.) champions sustainable approaches with Pru Jampa, the hotel's massive farm that's more like a treasure trove of plants, vegetables, herbs, and fruits. Award-winning chefs select ingredients from the garden to use in the dishes.