6 Things Christmas Tree Vendors Want You To Know
As the holidays get closer, more Christmas trees are being sold along sidewalks and in parking lots, and U-cut farms have taken up business everywhere.
A passion for creating holiday memories is what drives many Christmas tree sellers like Donald Chance.
"What motivates most of us to grow Christmas trees…is the joy we feel when we watch families with young children or couples get their first tree together, or the older couple in their 80s get theirs." Baum and still adore the decades of bittersweet memories that each decoration represents for them when they put it up," said Chance, who runs Badger Pocket Christmas Tree Farm in Ellensburg, Washington with his wife.
"It motivates most of us to engage in something that makes little rational sense in a business context."
Helping people choose a Christmas tree can be physically and mentally demanding, with long work hours and the need for encyclopedic knowledge of different evergreen varieties. HuffPost asked Chance and two other Christmas tree sellers with decades of experience for their opinions on common customer mistakes and etiquette snafus. Here are their answers, slightly edited for clarity.
1. Don't assume that a certain Christmas tree will fit in your home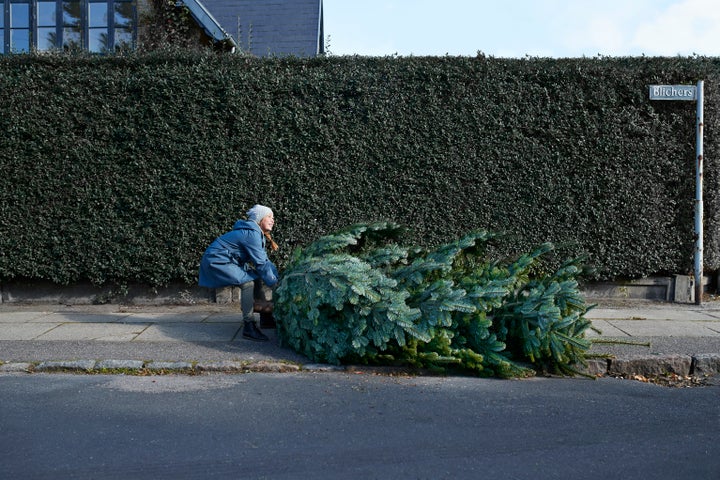 Klaus Vedfelt via Getty Images
"Christmas trees look smaller than in a Christmas tree field. It took some personal experience over the years to finally appreciate this optical illusion effect. If you have a 9 foot ceiling, you don't want a 9 foot tree; 8 feet is just right when you attach the top ornament, and it saves you from poking a nasty hole in your ceiling when you tip the tree onto its stand.
"The average front door is 3 feet wide. You can get a 5 foot or even 5 foot 6 inch tree through this door without much effort. But this big 12-foot widebody has to go through double doors. We have yardsticks for people and jokingly encourage people to walk around with them." – Chance.
"For some reason the trees on the property look smaller than when they are [buyers] take her home Occasionally people tell us, 'I have to have this tree.' And we're like, 'OK, it's a 9 to 10 foot tree. It's good.' And then they bring it to their house, and they call up and say, 'It's too big for my house.' …
"When you get into the really big trees, each foot costs you $50 to $60 more. I think people should know how high their ceiling is. Our trees are all sold by height. … But if you have any questions, we're happy to raise the bar." — Wendy Davis, a tree saleswoman for the Optimist Club of Austin in Texas.
2. Never let your tree go without water
"What we tell our customers is that the most important thing is to always keep water in the base of the trees and never let the tree go without water. They can also absorb moisture through the needles. They should not be in direct sunlight or near a heater. And if possible, you can use them to run a humidifier in the room or spray them with a mister. …
″[Customers ask us whether] There is a type of tree food that you can add to the water to help the tree last longer, or if they [should] Put 7Up in the water. My standard answer: "Have you ever seen a tree in the woods drinking 7Up?" Basically, they just need water to keep them fresh. Trees like Nobles and Frasers should be fine through January 6th as long as they are kept hydrated." – Davis.
3. Make sure your car can handle the tree you want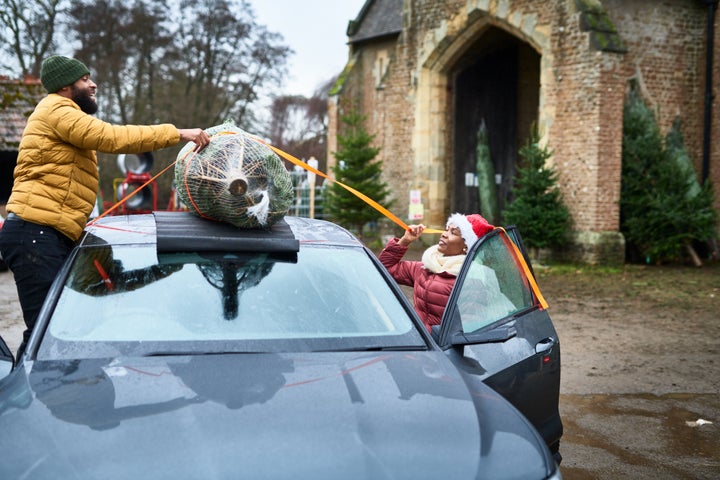 10,000 hours via Getty Images
"Please don't show up in a Mini Cooper without any roof racks whatsoever and then chop down a whopping 10 foot Scots pine that weighs over 100 pounds.
"Somehow we can work it out together – but your roof won't like it. And despite tying ropes through your car's windows everywhere, it's unclear if you'll make it home safely. Your wife won't be too happy either, since your windows are open. There's a reason we have this sign saying the owner is responsible for securing your load and we make a point of letting you know. Pickups and SUVs with luggage racks are preferred for every big tree." – Chance.
"We don't bag the trees afterwards [you buy them] – We just tie them fully open to a car unless you buy a rolled up tree. … If you tie it on the roof of your car and are worried about your car's paint finish, bring a blanket to put under so your roof doesn't get scratched." — Davis.
4. Don't forget to tip
"I will never neglect tipping because [of] the amount of work we have to go through as a team – especially when it's raining or snowing and it's so tough and customers come and ask, 'Can you open this tree for me? I want to see this tree. I want to see that tree." We do everything we can to help our customers ensure they get the tree they want. But then sometimes you do all the work and it's just 'thank you'. On my side, I will never neglect tipping when it comes to someone doing physical labor. …
"There are no hard feelings [otherwise]. But if a customer lets us open 10 trees and it's a snowstorm outside and it's pouring rain, and [the person] give us a 20 or give one of the guys a 20, it's like, 'Wow, thanks.' It goes a long way to showing appreciation." — Arthur, the founder of AA Christmas Trees in Brooklyn, New York.
5. Do not show up after hours
"There's … a reason why U-Cut farms in the northern states close around 4 p.m. But since we're nice people, we keep going and making fun of people who show up late, just as the sun is going down. Seems like it happens almost every single weekend rest day, but the havoc that a dark forest with a weary salesman can wreak is beyond imagination.
"At this hour we have a retired ranger couple in their 70s who have just come through a long day unaided helping 50 or 60 families fell trees in the snow and cold, too haul and load while they keep them burning the house fires and the hot chocolate and cookies flowing.
"We keep a sense of humor because we know it's coming, but it's a little nudge. Last week it was little 3-year-old JD who kidnapped his large family on his solo run, saw in hand, to find his own tree in the dark. After a frantic search party, we found the little guy busy picking a tree. … I had to admire his brains – he had written "future forester" everywhere.
"Please don't be late. Who knows what weirdness is likely?" – Chance.
6. Don't buy an artificial tree

"I will not buy an artificial Christmas tree. The misconception here is that people think, 'Oh, the trees in the forest are being cut down and it's so bad for the environment. I'll do the right thing and buy an artificial Christmas tree." … Farmers plant millions of Christmas trees every year, and without the business all those trees wouldn't be planted. As soon as the tree is felled, a new one is planted.
"It's all this oxygen that's being generated for the planet – while artificial Christmas trees are made of plastic and aren't recyclable. And the amount of carbon it takes to create that plastic isn't good for the environment." — Arthur.