A "Drew Barrymore Show" clip that has surfaced has shocked Twitter users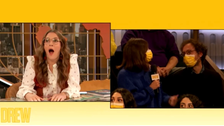 A clip of a couple's interaction on The Drew Barrymore Show didn't quite resonate with Twitter users this week, but the full clip sheds some light on the couple's complicated love story.
The clip, which shows part of a "Drew's News" segment that aired during the show's final season, shows a woman telling the man sitting next to her in the audience that he "ruined everything" then the woman explains what the man had ruined in their relationship.
The pair were shown in the audience as Barrymore and Ross Matthews asked viewers to respond to a question about what they would do if they didn't like a friend's partner.
Barrymore called a couple who had "giggled". The couple's husband told her that you have to 'be honest and not ruin everything' – but then the wife chimed in to say he had 'ruined everything'.
The woman then told Barrymore that he had just spoiled her attempt to propose to him while they were on the Brooklyn Bridge.
"He said to me, 'Oh no, it's embarrassing. Get up,'" said the woman, leaving Barrymore and the audience in shock.
You can watch the clip below.
"What does that have to do with a friend?" Drew asked the couple.
"Nothing," both said.
"I had to do it," the woman then said to the man.
Twitter users demanded that the viral clip should immediately receive an "Emmy," while others emerged to celebrate the woman's on-air comment.
And that's on "You think it was embarrassing that I proposed to you on the Brooklyn Bridge!? Just wait, I'll show you what real embarrassment looks like!!!" pic.twitter.com/vEyZ9SIq51
— 🟣XephiroX🟢 (@XephiroX_) December 1, 2022
However, the Twitter clip left out a "happy ending" in the couple's story.
"I wanted to do it myself later. Not today," the man said of the suggestion, as he received a mixture of awww and – later – laughter.