Actor Ezra Miller gets fined, probated after home burglary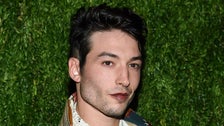 Actor Ezra Miller on Friday pleaded guilty to burglary and alcohol theft at a neighbor's Vermont home, one of a series of arrests and reports of erratic behavior over the past year that spanned from Hawaii to New England.
Miller, who has appeared in several Justice League films and stars in the upcoming film The Flash, agreed that by attending the pleading and complying with the terms, they would avoid a three-month prison sentence on a trespassing charge. but pay a $500 fine and a court fee, receive a year's probation and adhere to a number of conditions, including continued mental health treatment.
Two other charges were dropped, including a burglary charge that could have carried a 25-year sentence, but Vermont Superior Court Justice Kerry Ann McDonald-Cady said Miller the felony charge could be refiled if they do not comply with the details of the probationary period.
During the nearly 30-minute hearing in Bennington, Miller, 30, answered the judge's questions but declined to testify. However, after the hearing, Miller's attorney, Lisa Shelkrot, sent a statement on the actor's behalf.
"Ezra would like to thank the court and community for their trust and patience during this process, and would like to once again acknowledge the love and support they have received from their family and friends, who continue to be an important presence in their ongoing psychic journey." health," the statement said.
Miller pleaded not guilty to stealing alcohol from a neighbor's Vermont home in October. State police responded to a burglary report in Stamford on May 1 and found that several bottles of alcohol had been taken while the homeowner was away.
The homeowner said he had been friends with Miller for about 18 years and bought the home a year and a half ago in Stamford, where Miller also had a home, according to a police affidavit. Miller was charged after police viewed surveillance footage and interviewed witnesses.
Miller was arrested twice in Hawaii last year, including for disorderly conduct and harassment at a karaoke bar.