Actress Jenny Slate describes what's behind her 'Marcel the Shell' voice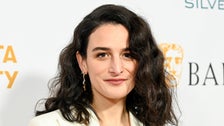 Slate likened the voice of Marcel, a one-inch talking shell who lives with her grandmother Connie, to "someone who paints an abstract painting to try and describe a set of feelings they're having."
"There are those moments in your daily life when you feel small and needed that you need to be heard," Slate said.
"You're feeling tough, but also sociable and personable and ready to party. You put it all together and it comes out in this strangely tight stream. And this is that voice."
She added that the character is her when she's considerate and connected to others, except "a little less freaky about what they think of me."
"And Marcel is pretty relaxed in his own state," Slate said.