After more than a decade of marriage, my husband died. Now, at 39, I'm dating for the first time.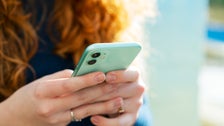 I was one of the lucky ones. I met Matt, my husband, when I was 22 years old. Fresh out of college, no real heartbreak for my name, he was my first real boyfriend. I married him and we had a fairytale life. Until he was diagnosed with an aggressive brain tumor and our world collapsed. He died less than two years later. Now I'm together – for the first time in my life. At 39 years old.
I entered the online dating world about 18 months after Matt's death. First, I looked for Matt in every profile – obviously he wasn't there, but guilt and sadness was often there.
As the pandemic brought the world to a halt, dating apps became an easy way to connect with other single parents who needed the occasional adult talk. When I met a man I was interested in, it didn't even seem possible to start a relationship. But chatting on the app became a meeting for outdoor walks while maintaining a 6ft distance, causing them to enter each other's pandemic bubbles.
As the world came to a standstill, we took steps forward. It was my first serious relationship after a loss, and the forced slow pace made her feel safe.
For a long time, the restrictions on dating during a pandemic isolated us. We met without the demands of real life. Then life began to return to normal—a new normal—and problems began to surface. Small problems related to communication styles and the direction of the relationship eventually became problems that could no longer be ignored.
Still, I did it, mostly because I didn't know any better.
My marriage had never required conscious effort. Matt and I had grown up together and somehow instinctively navigated each other's needs and boundaries. This is an unusual path for a relationship in general, and an impossible path for a relationship when it comes to children, careers, deaths, and divorces.
This meant that when I entered the dating world as a young widow, I entered as someone who had never learned to recognize my needs and ask that they be met. I never had to learn that sometimes people just can't meet our needs, and that's not a measure of a person's worth as a partner.
My only experience was that needs and boundaries were negotiated implicitly, perhaps even unconsciously. This meant that if my needs weren't being met in the relationship, I assumed the problem was my needs, not the relationship.
Even as I identified and articulated my needs, I struggled to draw a line between the times when they weren't being met. Matt's death – this loss – has devastated me. My whole world collapsed. The sadness was suffocating. The man I was with wasn't my husband or the father of my children or someone I'd built a life with over a decade, but he was the first person I really came to love. I didn't know if my heart would survive another loss.
As a result of all this, I spent a lot of time telling myself that I didn't need more and that I didn't mind that we weren't moving forward. I apologized for times when words didn't match actions and I rationalized away hurt feelings. (As the vast incompatibility gaps in our relationship became clearer, I suspect he went through similar mental gymnastics, but I can't tell his story.)
Eventually the problems became too big to ignore. The relationship, which started with a spark in the early days of the pandemic, ended with a whimper during a late-night phone call.
The deep sadness returned with a vengeance and it felt like Matt had died all over again, but this time I couldn't be angry at fate or the universe. It was my choice to open myself to love and my choice to walk away from it.
The desperation felt endless. The resilience and strength I had been lauded for in the days after Matt's death seemed nowhere to be found. My body and mind couldn't tell the difference between losing my husband and losing my friend, although I logically knew my reaction was out of proportion to reality. Anyone who has experienced grief knows that it lives in the body and does not respond well to logical thinking.
In the depths of that desperation, I even allowed myself to believe that I had used up all my resilience and strength, that there is only so much in life that we are allotted. But resilience is not a finite resource. It's not cumbersome or temporary. It's something that only gets stronger with each use, like a muscle.
Resilience was there in the moments after the breakup, when my lungs took another breath despite the tightness in my chest. Resilience was there when my mind whispered the word safe during the times I struggled with the uncertainties of the morning. Resilience was there, as before, and helped me find reasons to believe in hope, love, and light.
My first breakup after Matt's also taught me a valuable lesson about the pressure I'd been putting on myself since my husband's death. For the past few years, every decision has felt monumental, and I lived in constant fear of making a wrong move. I had somehow convinced myself that if I failed—if I made a bad choice—the life my husband had built for me would implode. No doubt that mindset played a role as I consistently dismissed my own needs to keep the relationship going.
But then we broke up. And… it was fine. My children were fine. I was fine. Life went on and I was given the realization that I was allowed to stumble after a loss. I was allowed to try a way and then change course if that didn't work anymore. I was even allowed to take a completely wrong path. There was no "or else" if I made a mistake or failed. The truth is that in most cases we get more than one chance to create a life we ​​love.
Ultimately, I realized that I had to forgive myself for my mistakes, real or imagined. I did my best with the information I had and now I know better. Now I'm one step closer to the life I want to live.
That is valuable in itself, but it also led me to this realization — one that my young widow's heart knew but refused to admit. It's like this: In love, loss is always only on the other side of eternity. It's beyond our control.
No matter how tightly we hold on, how many doctors we call for help, or how desperately we ignore problems, we cannot control how or when someone leaves our lives. The universe can be so cruel, but it can also be beautiful and worth the risk.
Breakups are tough whether you're 20 or 39. They're especially complicated when you're dating with a layer of sorrow in your heart. But if you can find the lessons, breakups can also serve as a bridge and bring you one step closer to the life you're meant to be living.
Perhaps the greatest lesson of all is understanding this.
Have a compelling personal story you'd like to see published on HuffPost? Find out what we're looking for here and send us a pitch.