Air France announces 17 partner chefs for 2023
Air France works with chefs annually to create menus for its La Première and Business cabins, as well as its airport lounges, and the airline recently announced the 17 chefs it will be working with in 2023, including five chefs, who are new to the program this year.
On long-haul flights from Paris in La Première and Business, French Michelin-star chefs Arnaud Lallement, Régis Marcon, Anne-Sophie Pic, Emmanuel Renaut and Michel Roth will return to create exclusive dishes, with Mauro Colagreco and Thierry Marx adding to the list for the first Just.
In the La Première suite, Meilleur Ouvrier de France pastry chefs Philippe Urraca and Angelo Musa bring a sweet touch to the menus in Air France's most exclusive cabin for the first time.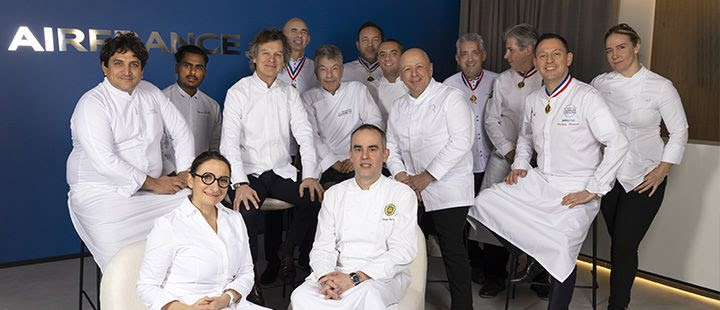 On long-haul flights departing worldwide, passengers will find culinary creations from Julien Royer with three Michelin stars (fights in Singapore), Jofrane Daily on departures from La Réunion and Olivier Perret (departures from Canadian destinations). On medium-haul Business Class flights, Meilleur Ouvrier de France and Bocuse d'Or winner François Adamski designs the lunch and dinner menus that are served all year round.
In the lounges, premium passengers will find dishes created by the Alain Ducasse team, Adamski, Amandine Chaignot, Guy Martin and Urraca.
In addition, Air France recently committed to using 100 percent French meat, dairy, produce and eggs and fish from sustainable fisheries in all cabins and lounges at Paris airports.