Alexandria Ocasio-Cortez reveals what she and Paul Gosar discussed on the floor of the house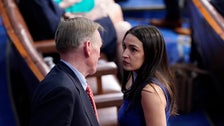 When Representatives Alexandria Ocasio-Cortez and Paul Gosar were spotted on the floor of the House of Representatives Tuesday afternoon, onlookers were curious as to what the New York Democrat and Arizona Republican could be talking about so casually. After all, Gosar was stripped of his committee appointments in 2021 for releasing an anime video in which he attacks and kills Ocasio-Cortez.
It turned out to be what was playing out in front of them as the new Republican majority tried and failed to elect a House Speaker. Without a House Speaker, none of the representatives could be sworn in, and House business ground to a halt.
Ocasio-Cortez told MSNBC's Alex Wagner later Tuesday that Gosar raised the possibility that Republicans could strike a deal with Democrats that could secure the speakership for Rep. Kevin McCarthy (R-Calif.). Challenges brought forward by Rep. Matt Gaetz (R-Fla.) and others meant Tuesday's three rounds of voting did not reach the required total for McCarthy's election.
Ocasio-Cortez said with a laugh, "I think anything is possible in the chaos, especially at this time." But she signaled that the possibility of a deal of any kind would not materialize.
She explained how things happen in the house when there is no consensus.
"Sometimes your party leadership — in this case, the Republican Party — will make claims to try to twist arms and get people in line, and often information and truth are currency."
She continued, "Sometimes it's important to be able to verify some of McCarthy's claims, whether or not Democrats are defecting and whatnot, to keep him honest and keep people honest in general."
Democrats rallied around Rep. Hakeem Jeffries (DN.Y.) to lead their November caucus and easily trailed behind him on Tuesday's speaker votes. He is expected to officially become minority leader once the speakership is decided and lawmakers are sworn in.
"I think what was important today," Ocasio-Cortez continued, "was to send the message that we are united behind Hakeem Jeffries as now a minority leader or as the leader of the Democrats and that there will be no defectors."
Gaetz was also caught on camera talking to Ocasio-Cortez, in what she described as a similar conversation.
Jeffries also said Tuesday night that Democrats would not help Republicans manage their own internal mess.
"We're looking for a willing partner to solve problems for the American people, not rescue Republicans from their dysfunction," Jeffries said.
Curiously, the camera shots of Ocasio-Cortez and Gosar and Ocasio-Cortez and Gaetz were only possible because of the house malfunction.
Speakers of the House and Senate usually limit C-SPAN, the nonprofit that broadcasts federal government sessions, to broadcasting very wide shots and spotlights on anyone who speaks — and not swerving to the sidelines for reactions see or see who is talking to whom. With no one formally in the house, C-SPAN was allowed to point the cameras at the most interesting happenings.