Anthony Davis explains his viral reaction to LeBron James' record shooting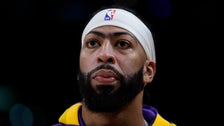 The Thunder defeated the Lakers 133-130 on Tuesday.
"It's about the game, I mean, we're losing to Oklahoma City Thunder, a game that we needed," Davis said.
"And I was mad that we lost. It's that simple. It has nothing to do with Bron. He knows it. Everyone else looks outside, it's their opinion. But I was angry that we lost the game."
Davis added that he went into the tunnel to "let off some steam, unaware of the record-breaking moment on the horizon" when he returned to the bench, according to ESPN.
Davis said he apologized to James in the days since the game and that James understood Davis "got into the heat of the competition."
James didn't seem to have any hard feelings towards Davis during the game, according to a clip from TNT's show.
"I love you," James said to Davis as the two sat on the Lakers bench.
"I just want you to know that I love you bro, that's all I want to say to you."