Bannon wanted to "turn up the heat" after the Jan. 6 violence.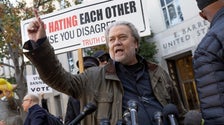 Former Donald Trump adviser Steve Bannon had floated the idea of ​​more violence in the days after the Jan. 6, 2021 riot in the US Capitol, according to text messages received by the House Select Committee that launched the attack examined.
The House of Representatives' Jan. 6 Committee on Monday released its latest collection of material from its investigation into the insurgency and the political actors who planned it, including the former president. The committee formally recommended last month that the Justice Department indict Trump on multiple counts related to the attack, including inciting a riot.
One of the testimonies the committee released Monday is that of Alexandra Preate, who served as Bannon's spokeswoman from 2016 to 2020.
A Jan. 8, 2021 text exchange between Preate and Bannon, obtained by the House Select Committee, revealed that the former Trump adviser wanted to "turn up the heat" in the days after the deadly riot. Despite attempts by Trump supporters to block Congress and then-Vice President Mike Pence from confirming Electoral College votes for Joe Biden on Jan. 6, the majority of lawmakers did their duty that day.
According to the texts, Preate Bannon later shared that Trump still resides in Washington and asked when the Republican president planned to leave the city before Biden's inauguration.
"He's not staying in the White House after the 20th," Bannon replied, referring to Biden's inauguration date. "But who says we won't have a million people tomorrow?"
Preate told the select committee that she didn't know what Bannon was referring to when he mentioned the 1 million people, but said she thinks he's talking about people "marching there or standing there or something."
The committee then showed a later text from Bannon to Preate, in which he said, "Well, I would surround the Capitol in utter silence."
Preate testified that she didn't recall Bannon speaking more about bringing people back to Washington, even after the Capitol riot.
Preate said there was a time when Trump and Bannon did not speak, but that the two resumed communication ahead of the 2020 election. She said Bannon is "very private about his conversations, not just with the President but with other people in general."
She also testified that her work with Bannon wasn't very focused on his "War Room" podcast, where he and right-wing guests often reinforced unfounded allegations that the 2020 presidential election was stolen by Trump and pushed through calls for rebellion.
A federal jury convicted Bannon of contempt of Congress in July, and he was sentenced in October to four months and a $6,500 fine. The Trump ally refused to turn over notices and other documents to the Jan. 6 House committee and refused to appear before the bipartisan panel of lawmakers to testify in their inquiry.