Best Holiday Party Dresses for Women at Target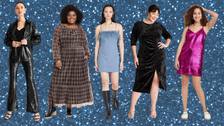 The holiday season is officially upon us. The neighborhood decorations have risen and lights twinkle along the rooflines and windows. The party invitations are in the mail. After a few holiday seasons at home, quite a few of us are ready for a festive season. Whether you're planning a simple soiree or attending a grand New Year's Eve celebration, Target has you covered.
Unexpected picks like bright pink velvet jumpsuits to future favorites like a vintage-inspired feather-trimmed mini dress can shake up your tried-and-true holiday looks with a festive, bold twist. Of course, there are also holiday classics such as a curve-hugging velvet cover through to a sequined slip dress. Not only will these sparkling pieces shine throughout the holiday season, they are new styling elements to add to your wardrobe in the New Year.
HuffPost gets a cut from retailers on this site. Each item is independently selected by the HuffPost Shopping team. Subject to price and availability changes.