CDC notes a sharp increase in maternal deaths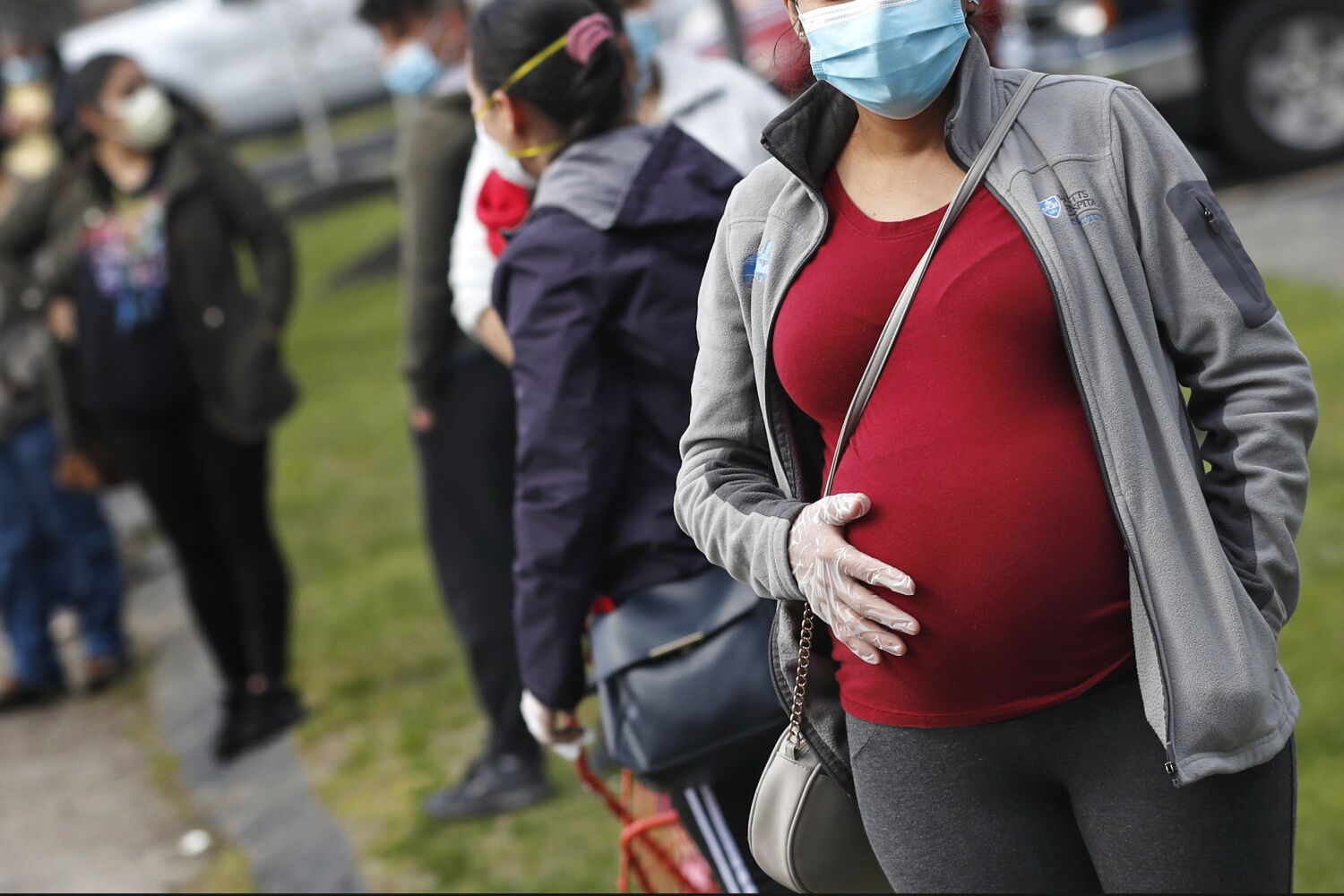 As federal data shows a spike in deaths among pregnant women during the pandemic, California advocates say it fuels their resolve to keep trying to prevent as many of those deaths as possible.
The National Center for Health Statistics reported Thursday that 1,205 pregnant women died in the United States in 2021, a 40% increase from 2020, when 861 deaths occurred. In 2019 there were a total of 754.
Pregnant black women continued to have the highest risk of death, according to the report. In 2021, the maternal mortality rate for black women was 69.9 deaths per 100,000 live births, 2.6 times the rate for white women at 26.6 deaths. Among Hispanic women, the report said there were 28 deaths per 100,000 live births.
The report didn't specify causes of death or provide state-by-state data, but a Federal Accountability Office report released in October found that a quarter of maternal deaths in 2020 and 2021 were related to COVID-19.
"We were afraid to see the actual numbers," said Dr. Elliott Main, medical director of the California Maternal Quality Care Collaborative, which brings together state agencies, hospitals, and healthcare provider associations to explore ways to prevent pregnancy complications and death.
"It kind of overwhelms all the other work that we've done to work on hypertension deaths, bleeding deaths and blood clot deaths," Main said. "All of these are now overwhelmed or being minimized by the pandemic."
In recent years, California has become a national leader in reducing maternal mortality. According to the California Maternal Quality Care Collaborative, the maternal mortality rate in California in 2006 was 16.9 per 100,000 live births. By 2016, the rate had dropped by 65%.
According to the state Department of Health and Human Services, there were 18.6 maternal deaths per 100,000 live births in California in 2020, up from 12.8 in 2019.
In pregnant women in California, cardiovascular disease was the leading cause of death between 2018 and 2020, followed by hemorrhage, sepsis, thrombotic pulmonary embolism, and amniotic fluid embolism. More than a quarter of deaths occurred on the day of delivery.
Not enough of the public is aware of how devastating maternal mortality is, said Sonya Young Adam, executive director of the California Black Women's Health Project, an Inglewood-based nonprofit.
She said "it's overwhelming and hard" to hear constant stories from black people who recall bad birth experiences that happened to them or family members with complications, or doctors who didn't listen to them. She said that too often these stories involve the person feeling something is wrong before, during, or after the birth.
But even amid the lack of awareness, Aadam said she and other advocates are trying to walk a fine line by educating black communities about maternal mortality and pregnancy complications without instilling fear to the point where people are forgoing pregnancy altogether.
"It informs our community that they have a voice and helps build advocacy capacity so people don't walk away from a situation and ask, 'What have I done?'" Aadam said. "[It's so] They go armed and ready to claim a joyful birth, which they should be able to claim in any health care system in the state. At the moment we know that is not possible."
The new report comes as families, health advocates and healthcare providers express their dismay at the number of deaths and pregnant women who have not had the physical, emotional and social support they needed during the pandemic. Pregnant women often had to be isolated in hospitals to prevent possible COVID-19 infection, limiting the support that could be provided in hospital rooms.
Parent and community support groups switched from in-person to Zoom calls for reasons of social distancing. Some pregnant women have not been able to maintain social distancing due to essential workers and exposure to COVID-19. Additionally, during the pandemic, public health leaders at the federal, state and county levels are struggling with delivering messages to encourage more pregnant people to get COVID-19 vaccines.
Main said that women giving birth today are "much more complicated patients than we were 20, 30, 50 years ago" because many are 35 years or older and have high blood pressure, diabetes or other problems that can complicate pregnancy.
The federal report found 20.4 deaths per 100,000 live births for women under 25, 31.3 for women between the ages of 25 and 39, and 138.5 for women over 40.
When it comes to addressing the serious mortality differences between black and white mothers, part of it is due to differences in rates of high blood pressure, diabetes and obesity, Main said. He also pointed to the "weathering effects" on black health from continuous, year-long exposure to racism. But implementing protocols that all providers are required to follow for each patient can help reduce complications.
"That's when you start intruding[to] subjective decision-making that incorporates … the biases," Main said. "The more we can reduce some of the subjective decision-making, the better we can reduce inequalities."
Part of the work of the California Maternal Quality Care Collaborative included assisting in the development of bleeding carts, which are now in place at every hospital statewide so healthcare providers can quickly provide assistance when mothers are losing blood rapidly. The collaboration has also worked with healthcare providers to develop protocols to help mothers suffering from postpartum high blood pressure, known as preeclampsia.
In recent years, California has also extended Medi-Cal benefits for new parents to 12 months postpartum and now allows doulas to become eligible providers under Medi-Cal.
Doulas are considered a key element in providing emotional and physical support and advocacy to mothers before, during and after childbirth, especially black women. The state has also established a fund for midwifery training programs that prioritize enrolling underrepresented groups.
The California Black Women's Health Project has started training black midwives and created a business toolkit to help them get started and establish midwifery support circles nationwide. The organization is also developing training to help obstetricians apply to become Medi-Cal providers.
The organization has also been a fiscal sponsor to help obstetricians receive funds from the Los Angeles County Department of Health and Human Services. As progress is made, Aadam said, more "inexplicable investment" in black-focused community efforts is needed.
"There are many, many, many, many of us who may even disappear from this earth before this issue is truly addressed," Aadam said. "It will take time, but whatever way we rescue someone along the way, that's what we're trying to do to reduce these stories – arm our sisters with someone by their side and a team of support around them hereabouts."