Defiant Ukrainians shout 'Putin's AD**khead' as drones drop bombs on Kyiv: reports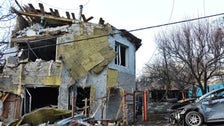 Foreign social media accounts shared videos showing Ukrainians standing on balconies and in the street defiantly shouting "Putin is a moron" as drones dropped bombs on Kyiv over the weekend.
A local radio station reportedly played Ukraine's national anthem during the barrage, in homage to the indomitable spirit of Ukrainians.
The sound of bombs — and screams — can be heard in video as people shout "Putin is an asshole," "Russian warship go fuck yourself," and "Glory to Ukraine," according to reported translations.
The phrase "Russian warship" comes from a Ukrainian sailor stationed on Snake Island who was part of a group that refused to surrender to Russian forces early in the war.
Zelenskyy said in a video address in Ukraine on Sunday: "Our sense of unity and authenticity, of life itself, stands in contrast to the fear that prevails in Russia. You are scared. You can feel it," he added. "And they're right to be scared because they're losing."
"We are together," Zelenskyj said. "They are only together in fear."
Zelenskyi said 45 Russian drones involved in the barrage were shot down.