Evacuations ordered as California braces for rain and flooding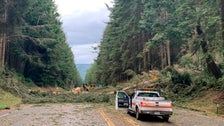 SAN FRANCISCO (AP) — As a massive storm approached California on Wednesday, officials began ordering evacuations in a high-risk coastal area where mudslides killed 23 people in 2018, while residents elsewhere in the state searched for sandbags and looked up Floods ceased and power outages.
California Gov. Gavin Newsom declared a state of emergency to allow for a quick response and to help clean up after another strong storm just days before. Dozens of flights have been canceled at San Francisco International Airport and schools in South San Francisco have preemptively canceled Thursday classes. As the storm intensified, state officials warned residents in Northern California to stay off the streets.
The first evacuations were ordered for those living in the burn scar areas of three recent wildfires in Santa Barbara County, where heavy overnight rain is expected and could trigger widespread flooding and debris flows in several areas. Among them is the toy town of Montecito, home to many celebrities including Oprah Winfrey and Prince Harry and his wife Meghan Markle.
"We anticipate this could be one of the most challenging and impactful series of storms to make landfall in California in the past five years," said Nancy Ward, the new director of the California governor's Office of Emergency Services.
Officials urged drivers to stay off the roads unless absolutely necessary – and to keep themselves informed by signing up for updates from emergency officials on downed trees and power lines, as well as flooding. In Northern California, a 40-kilometer section of Highway 101 between the cities of Trinidad and Orick has been closed due to several fallen trees.
Before the storm hits late Wednesday, Santa Barbara County Sheriff Bill Brown said people affected by last year's Alisal Fire, the 2019 Cave Fire and the devastating 2017 Thomas Fire, one of the largest in California history, affected areas should be evacuated.
On January 9, 2018, massive torrents of huge boulders, mud and debris tumbled down the coastal mountains and through the city of Montecito to the coast, killing 23 people and destroying more than 100 homes. Among those killed were two children whose bodies were never found.
Montecito Fire Chief Kevin Taylor said Wednesday that homes near waterways were most at risk.
"We're talking about a lot of water coming off the tops of the hills and going into the creeks and streams and when it comes down it gains momentum and that's the initial danger," he said.
Storms over the past 30 days have produced between 8 and 13 inches of rain, drenching coastal hills in Santa Barbara County. The current storm is expected to drop up to 10 inches of rain in the area, Taylor said.
"This cumulative rain … causes our risk," he said.
The storm, which is expected to be in full force in northern California by Wednesday night, is one of three so-called atmospheric river storms to hit the drought-stricken state in the last week. With the states' major reservoirs at record lows since a dry three-year period, they have plenty of room to fill up with more water from the upcoming storm, officials said.
Yet trees are already stressed by years of limited rain. Now that the terrain is suddenly saturated and the wind is strong, trees are more likely to fall. That could cause widespread power outages or create flood hazards, said Karla Nemeth, director of the state's Department of Water Resources.
"We are in the middle of a flood emergency and also in the middle of a drought emergency," she said during an emergency briefing.
The storm comes days after a New Year's Eve rain that led to the evacuation of people in rural communities in Northern California and the rescue of several motorists from flooded streets. Some levees south of Sacramento were damaged.
In the San Francisco Bay Area, 8,500 sandbags distributed by officials weren't enough to meet demand Wednesday as forecasters warned of impending flooding. The South San Francisco Unified School District announced that classes for its 8,000 students would be canceled Thursday "out of caution."
Heavy downpours accompanied by winds gusting to 60 mph (96 km/h) were expected later Wednesday and into Thursday, making driving conditions difficult, the National Weather Service said. In Southern California, the storm was expected to peak overnight, with Santa Barbara and Ventura counties likely to see the most rain, forecasters said.
Aaron Johnson, Pacific Gas & Electric's regional vice president for the Bay Area, said the company has more than 3,000 employees working in teams of three to five people to assess damage to their equipment and restore power as quickly as possible to restore.
Robert O'Neill, an insurance broker who lives and works south of San Francisco, said he queued up to get sandbags for his garage and a co-worker's home in preparation for the storm.
As president of Town & Country Insurance Services, he gave employees the option to work from home on Wednesday, which many did, he said. He plans to leave the office early and go home, where he has holdalls with clothes, medicines, electronic chargers and important papers. He has sleeping bags and water, nuts and protein bars for three days.
"We're in a big city so we wouldn't be stranded for too long, but you never know," he said.
California's storms are still not enough to officially end the drought, which is now in its fourth year. The US Drought Monitor showed most of the state is experiencing severe to extreme drought.
Elsewhere in the Midwest, ice and heavy snow took their toll this week, closing schools in Minnesota and western Wisconsin — and causing a jet to go off an icy runway after landing in a Minneapolis snowstorm. No passengers were injured, Delta Airlines said.
In the South, a possible tornado damaged homes, downed trees and flipped a vehicle on its side early Wednesday in Montgomery, Alabama. Christina Thornton, director of the Montgomery Emergency Management Agency, said the radar showed a possible but unconfirmed tornado. The storm had extremely strong winds and passed through the area before dawn, she said.
Officials with the Chicago bureau of the National Weather Service planned to survey storm damage Wednesday after at least six tornadoes, the largest number of rare January tornadoes recorded in the state since 1989.
Associated Press writers Janie Har in San Francisco, Sophie Austin in Sacramento, California, Steve Karnowski in Minneapolis, and Rick Callahan in Indianapolis contributed to this report.