Ex-Google employees lament the way they were informed of the layoff
Jeremy Joslin spent two decades working as a software developer for Google only to be fired along with thousands of his colleagues last week. The way the company notified him was "cold," Joslin said.
Google on Friday became the latest tech company to announce layoffs, laying off about 12,000 employees over the past week. The cuts represent just over 6% of parent Alphabet's workforce, which was 186,000 as of September, according to a securities filing.
The Silicon Valley giant has hired thousands of workers during the coronavirus pandemic and is now trying to cut costs in the run-up to a possible economic recession this year. However, ex-employees said there was something emotionless about the way they were told they were being made redundant.
Joslin and other former Google employees said they received the termination email at their home address, which they felt was insensitive. Not receiving advance warning of what would be their last day at the company added further insult to the injury, they said.
Joslin said he understands that laying off thousands of workers at once is a complex process and that email is probably the easiest way for the company to do it. But it wasn't the best way, he said.
"At the same time, Google prides itself on solving tough problems," he told CBS MoneyWatch. "Notifying people with dignity and respect that they are being fired is a difficult problem, and I think they could have handled it better."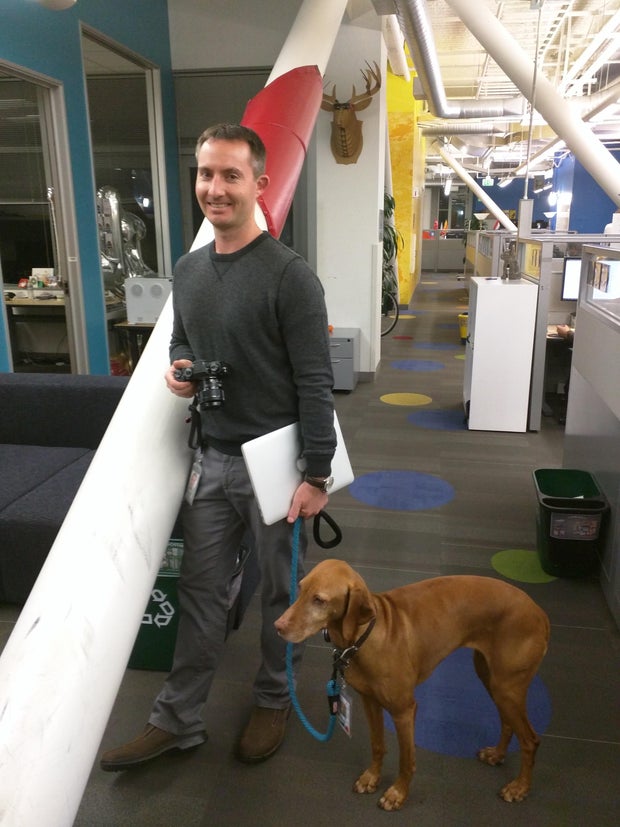 Software developer Jeremy Joslin worked for Google for 20 years but was fired in 2023. He is pictured here at Google's Mountain View office in 2015 with his dog, Scarlet. Richard Liu
"Being notified via email is definitely not optimal," Mike Coleman, who works for Google out of Oregon, told CBS MoneyWatch. But he added: "Ultimately, I don't think I would have learned anything additional from a personal notification. If I did it via email, I could have my reaction privately instead of in front of someone who probably had nothing to do with the decision."
Alphabet did not immediately respond to a request for comment on Tuesday. In a company blog post, CEO Sundar Pichai apologized for the layoffs and said the decision weighed "heavy" on him.
The search engine's layoffs add to the growing list of tech companies that are cutting jobs or planning to cut jobs. Microsoft this month announced it would cut 10,000 jobs, or almost 5% of its workforce, while Amazon announced it would cut 18,000 jobs. Facebook's parent company Meta plans to cut 11,000 jobs and Salesforce said it will cut 7,000.
According to Challenger, Gray & Christmas, an outplacement firm, the tech sector shed the most jobs of any sector last year and will eliminate nearly 100,000 jobs in 2022. Netflix, Peloton, Twitter and other companies have also announced staff cuts or at least plan to reduce hiring.
Despite the layoffs, Google is still one of the biggest names in tech, with more than 125,000 employees worldwide and a market cap of $1.2 trillion.
No chance to say goodbye
Notifying employees of their dismissal via email is not illegal in the United States. But what happened at Google is another example of companies failing to deliver bad news appropriately. Better.com fired 900 employees via Zoom in 2021, sparking outrage on social media. United Furniture Industries, a Mississippi furniture store, fired 2,700 workers via text message days before Thanksgiving last year.
Joslin shared his frustration with the layoffs at Google on Twitter last Friday in a post that received more than 3,000 retweets and 42,000 likes. "What a slap in the face. I wish I could have said goodbye to everyone face to face," Joslin tweeted. He said the email method ultimately prevents employees from saying goodbye to colleagues or removing important trinkets from their desks.
I can hardly believe that after 20 years #Google I unexpectedly found out about my last day via email. What a slap in the face. I wish I could have said goodbye to everyone face to face.
#Redundancies
— Jeremy Joslin (@jcj) January 20, 2023
"It would have been nice if there had been a more human touch — maybe my manager reached out to me, maybe he called me," he said. "If you send an email, acknowledge the work I did there and the time I spent (and) say thank you."
Google's stock price fell 2.3% Tuesday to around $99 per share.
Trending News
Christopher J Brooks