Former Earth, Wind & Fire drummer Fred White has died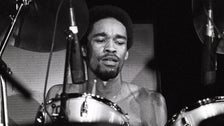 Fred White, former drummer for Earth, Wind & Fire, has died, according to his brother Verdine. He was 67.
"Our family is saddened today by the loss of an amazing and talented family member, our beloved brother Frederick Eugene 'Freddie' White," wrote Verdine, a former bandmate, in a social media post sharing the news.
Verdine described his brother as a "wonderful brother" who was "always entertaining and delightfully mischievous".
"He will live in our hearts forever, Rest in Power beloved Freddie!!"
This is an evolving story. Please check back for updates.