Fox News' Hannity, Ingraham and Kilmeade answer their own complaint in Supercut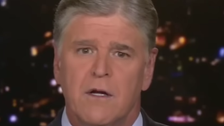 Fox News figures appeared perplexed this week by Republican voters' reluctance to vote early and by mail after GOP nominee Herschel Walker was defeated in the runoff against incumbent Sen. Raphael Warnock (D) to represent Georgia in the US Senate was.
Sean Hannity, Laura Ingraham and Brian Kilmeade were among those who expressed their confusion at the situation and their frustration at the loss of Donald Trump-backed Walker on the air.
But maybe they should check their own previous comments.