Foxconn apologizes for wage dispute that sparked violent protests at Chinese iPhone factory
Foxconn, the electronics maker that assembles Apple's iPhones, on Thursday apologized for a wage dispute that sparked massive employee protests and violent police backlash at a factory in central China where antivirus controls were slowing production.
Escalating unrest at the Zhengzhou factory has been going on for at least a month since thousands of workers went on strike in October over alleged unsafe working conditions linked to the spread of COVID-19. All of this is happening as China grapples with a surge in virus infections, particularly seen in densely populated cities.
Foxconn hired a number of new employees after the exodus. Allegations that the company unlawfully changed its policy for newly hired workers, who say they were hired with promises of higher pay than they actually receive, sparked protests at the factory.
Videos shared on social media earlier this week appeared to show a particularly large demonstration attended by thousands of people in Zhengzhou wearing masks and facing lines of police officers wearing hazmat suits and holding riot shields. Police kicked and beat a protester with clubs after the person grabbed a metal bar and was hit with it. Witnesses also said iPhone factory workers were beaten and arrested during the protests.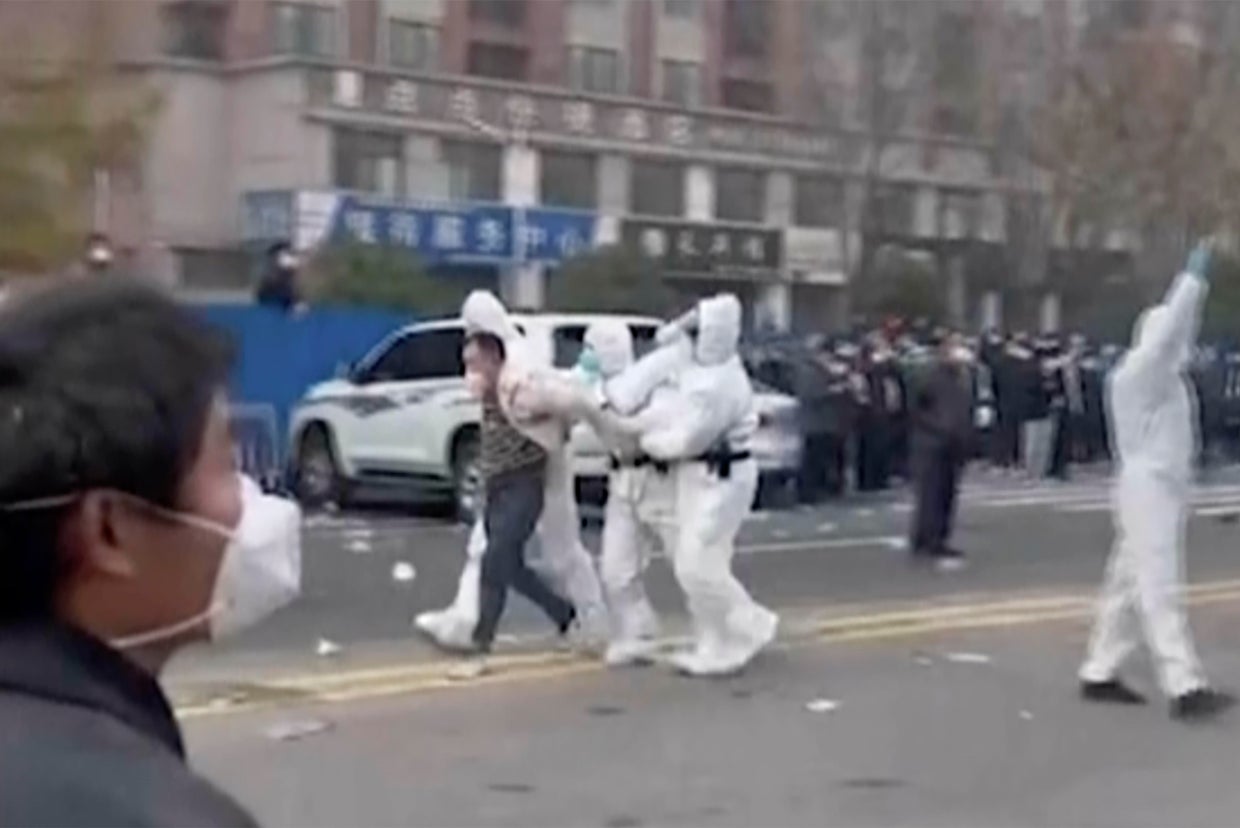 In this Nov. 23, 2022 photo, security guards in protective gear were seen carrying a person during a protest at the factory compound of Foxconn Technology Group, which operates the world's largest Apple iPhone factory, in Zhengzhou, central China's Henan Province. Associated Press
Foxconn, the largest contract manufacturer of smartphones and other electronics for Apple and other global brands, addressed workers' grievances about pay differentials in its apology on Thursday. The company blamed a "technical error" in hiring new staff and said they were being paid what they were promised.
"We apologize for an error in the computer system and guarantee that the actual payment corresponds to the agreement and the official recruitment posters," the company said in a statement. It promised to "do its best to actively resolve employees' concerns and legitimate demands."
Apple late Wednesday said it had employees on site at Foxconn's Zhengzhou facility.
"We are reviewing the situation and working closely with Foxconn to ensure their employees' concerns are addressed," the Cupertino, California-based company said.
The row comes as the ruling Communist Party is trying to stem a surge in coronavirus cases without shutting down factories like it did in 2020 at the start of the pandemic. His tactics include "closed-loop management" or the employees living at their workplaces without outside contact.
Authorities pledged last month to lessen economic disruption by shortening quarantine periods and making other changes to China's "zero-COVID" strategy, which aims to isolate every case. Even so, the surge in infections has prompted authorities to suspend access to neighborhoods and factories, and to close office buildings, shops and restaurants in parts of many cities.
On Thursday, people in eight districts of Zhengzhou, which has a total population of 6.6 million, were asked to stay at home for five days. Daily mass tests have been ordered for a "war of annihilation" against the virus.
Apple previously warned that iPhone 14 shipments would be delayed after workers evacuated the Zhengzhou factory and access to the industrial area around the plant was closed following outbreaks.
To attract new workers, Foxconn offered $3,500 for two months of work, according to employees, or nearly 50% more than news reports say the highest wages usually are.
Employees complained that upon arrival they were told they had to work two more months at the lower wages to get the higher wages, according to one employee, Li Sanshan.
Foxconn was offering up to $1,400 for new hires who decide to leave, financial news agency Cailianshe reported, citing unidentified recruiters.
Foxconn's statement Thursday said employees leaving the company will receive unspecified "care allowances," but gave no details. It promised "full support" for those who stay.
The protests in Zhengzhou come amid public frustration over restrictions that have locked millions in their homes. Videos on social media show residents in some areas tearing down barricades erected to enforce neighborhood closures.
Foxconn, headquartered in New Taipei City, Taiwan, had previously denied any online comments that employees with the virus were living in factory dormitories.
Trending News