From Rhetoric to Action – Global Issues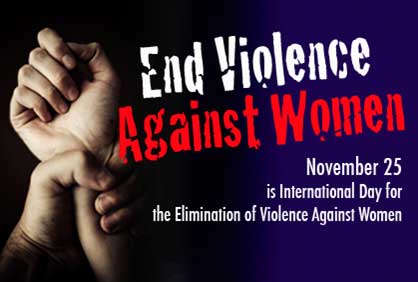 The International Day for the Elimination of Violence Against Women on November 25, followed by the 16 Global Days of Activism Against Gender-Based Violence, is a moment to reflect, renew, reinforce and strategize to make commitments to eliminate violence against women by 2030. Ending violence against women is possible, but only if we act together now, says the United Nations. Statement by Jacqui Stevenson (Kuala Lumpur, Malaysia) Wednesday 23 November 2022Inter Press Service
KUALA LUMPUR, Malaysia, Nov. 23 (IPS) – Violence against women is a global crisis, pervasive in every community and society around the world. Globally, estimates published by the WHO show that around 1 in 3 (30%) of women worldwide have experienced either physical and/or sexual violence by intimate partners or sexual violence without a partner in their lifetime. However, there is limited coordination and insufficient funding to truly address the scale of the problem.
This has catastrophic consequences for the individual women affected, whose rights are violated, their physical integrity and psychological well-being are undermined and their health is damaged. It also has implications for society as a whole, including the cost of providing violence response services and the financial impact of violence itself.
While these costs are shared across sectors, including health, police, social services and education, among others, efforts to reduce or prevent violence against women often suffer from limited budgets and siled funding streams. Also missing from many responses are the invisible costs borne by women and their children, families and communities.
While nearly three out of four countries have a policy infrastructure to support multisectoral responses to combating violence against women and girls, only 44 percent of countries report having a national budget item to provide health services to combat violence against women. Recent analysis shows that foreign donors play a critical role in funding gender-based violence interventions, but funding is limited, uncertain and inconsistent with human rights principles.
Bridging the gap between policy and implementation is critical if efforts to reduce violence against women are to achieve the urgency and scale required.
Ending violence against women is an urgent legal, moral and ethical imperative. Effective interventions to reduce, prevent and respond to gender-based violence in all its forms must be a priority for all governments. In addition to ending violations of women's human rights and perpetuating the gender inequality that constitutes violence against women, interventions aimed at ending gender-based violence contribute to the achievement of the Sustainable Development Goals and generally promote the development of societies.
Effective coordinated investment is a key element in achieving this necessary goal, but it is important to emphasize that the case for ending violence does not boost the return on investment.
UNDP and UNU-IIGH recognized the challenges posed by siled budgets and, with the support of the Republic of Korea, collaborated on a project to develop new tools and evidence for "participatory planning and payment models". These models engage various community stakeholders to define their own solutions and establish sustainable funding for local GBV action plans.
The approach prioritizes the need to work with diverse policymakers and stakeholders at the local level to develop effective solutions to address violence against women that are both contextually relevant and locally led. The pilot projects were carried out in Indonesia, Peru and the Republic of Moldova.
The results of these pilot projects were published on the occasion of the International Day for the Elimination of Violence against Women. Importantly, the models focus on the participation and leadership of women and women's civil society, and embed women's rights activists in local structures that develop the plans and budgets to combat gender-based violence.
The core idea underlying the participatory planning and payment approach is simple: the benefits of reducing violence are shared by all, so the costs can be shared as well. Various sectors can reap the financial benefits of reducing violence against women, but they are unlikely to adequately fund a comprehensive prevention and response program if each acts individually.
Instead, the project brought these sectors together with local communities and other stakeholders, facilitating the development of Local Action Plans (LAPs) to tackle gender-based violence using participatory methods. Each LAP addressed locally defined priorities for preventing and responding to violence with targeted benefits across a range of health, economic and social sectors and issues.
The LAPs are costed and just as the plan itself is participatory, so is its implementation paid for, identifying 'payers' across sectors and pooling budgets to maximize impact. Rather than funding isolated budgets to fund a mix of interventions and services without a coherent structure, funding streams are pooled to support a coordinated plan. Through collaboration, shared expertise and decision-making, and accountability from the local community, the whole is greater than the sum of its parts.
Implementing this innovative model is inherently challenging. Especially in resource-constrained environments like the environments for these pilot projects, there are competing demands for limited budgets and multiple priorities vying for attention and funding.
Breaking down silos to achieve shared funding is a political, contested process, and centering the voices, priorities and rights of women, particularly the most marginalized, is a challenge. A key takeaway from the pilot projects is the need to ensure that high-level decision-makers with budgetary responsibilities in key sectors and government departments are involved early in the process of developing LAPs in order to gain their support.
Despite the challenges, the benefits of shared budgeting and resource mobilization are clear. In Peru, UNDP conducted a landmark study to estimate the costs of not preventing gender-based violence. The Cost of No Prevention study estimated the annual cost of gender-based violence in the community of Villa El Salvador (where the pilot project was conducted) at nearly $72.9 million (in 2018 figures), including direct costs such as health care and indirect costs such as absenteeism from work and loss of income borne by affected women, their children and families, networks and wider communities.
Cost estimates for the participatory planning process to prevent and respond to gender-based violence have been estimated at $256,000 over 2.8 years (including project initiation and tool and product development costs, which will therefore decrease in subsequent years). This is a clear demonstration of the cost-effectiveness of participatory approaches to planning and paying for models to combat gender-based violence.
When violence is not adequately prevented and responded to, the costs fall squarely on women's shoulders. The Cost of No Prevention study estimates that 45% of the costs of gender-based violence are borne by the women themselves, including the costs of increased physical and mental health problems, expenses and reduced income.
Another 11% is subsidized by households and 44% by the community, including missed school days for children affected by domestic violence and the provision of emotional support, housing and personal loans by others in the community. Insufficient funding, siled budgets, and limited resources only increase costs for women, communities, and societies.
Participatory planning and payment models provide a blueprint for funding and delivering the services and interventions women need, want and are entitled to. Ultimately, someone has to pay the price for violence against women.
dr Jacqui Stevenson is a research advisor leading work at the UN University International Institute for Global Health (UNU-IIGH) to generate new insights into the intersections of gender and health, including GBV and COVID-19.
IPS UN office
Follow @IPSNewsUNBureau
Follow IPS News UN Bureau on Instagram
© Inter Press Service (2022) — All rights reservedOriginal source: Inter Press Service
Where next?
Similar news
Browse related news topics:
Latest news
Read the latest news:
Ending Violence Against Women: From Rhetoric to Action Wednesday 23 November 2022Uganda Women Tackle Domestic Violence with Green Solutions Wednesday 23 November 2022Pan-African Approach to Addressing Food Insecurity Due to Conflict and Climate Shock Tuesday 22 November 2022COP27: Landmark Win on Loss and Damage Fund Tuesday 22 November 2022Africa's open veins bleed profusely Tuesday 22 November 2022UN chief calls for global 'Alliance for Peace' at Fez Forum that recognizes inclusion and richness in diversity Tuesday 22 November 2022Yemen: Humanitarian and economic issues must be addressed, Security Council hearing Tuesday 22 November 2022UNEP honors five protectors of Mother Earth Tuesday 22 November 2022Stronger action needed to address changing dynamics of piracy in the Gulf of Guinea Tuesday 22 November 2022Iran: 40 People killed in protests last week – OHCHR Tuesday, April 22 November 2022
incoming
Learn more about the issues involved:
share this
Bookmark or share this through some popular social bookmarking websites:
Link to this page from your website/blog
Add the following HTML code to your page:
Ending Violence against Women: from Rhetoric to Action, Inter Press Service, Wednesday November 23, 2022 (posted by Global Issues)