George Santos voters vent their grievances with Republican lies "cheating."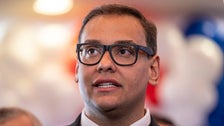 Constituents for newly elected Rep. George Santos (RN.Y.) told CNN's Eva McKend that they feel "completely betrayed" by the Republican and succumbed to his litany of lies last week (you can watch the clip as the voters weigh Santos under).
Santos, who is reportedly facing at least two investigations, is under investigation for falsehoods and several inconsistencies regarding details he disclosed about his background, such as his education, his connection to Holocaust survivors, the date of his mother's death and his professional career shelling .
Teodora Choolfaian, a Santos voter, told McKend that she felt "completely betrayed" and stopped supporting the candidate because of the controversy.
"George Santos is a cheater," said Choolfaian, who attended a rally Thursday attended by Santos' former opponent Robert Zimmerman.
"The whole personality he created, the ability to fool us is so disturbing. This man shouldn't be in office. And we all know it. I want to assure you that Republicans know it too."
Jewish community leader Jack Mandel, who had previously met with Santos and saw him as a fresh face for the Republican Party, said he would "absolutely not" vote for Santos if the election was tomorrow.
"The Holocaust is something that touches the heart of every Jew, and someone who would use that as a topic of conversation, as a voter, I think [it] is wrong."
However, a Santos supporter told McKend that the Republican did nothing wrong legally.
"He admitted he lied, and most Christians believe in forgiveness. Don't forget, just move on. Let's see what happens," said Tom Zmich.