Gerrie Coetzee, boxing champion who defied South Africa's apartheid laws, dead at 67
CAPE TOWN, South Africa (AP) — Gerrie Coetzee, a former South African boxer and WBA heavyweight champion who flouted some of his country's racist laws during the height of apartheid in the 1970s and 1980s and supported Nelson Mandela and the Blacks and Whites gained popularity fans, died. He was 67.
Coetzee died Thursday in Cape Town just over a week after being diagnosed with lung cancer, his former manager Thinus Strydom said on Friday.
Coetzee, who was white, was the first African boxer to win a world heavyweight title. He beat American rival Michael Dokes in 10th round in Richfield, Ohio in 1983 to win the WBA belt, a huge upset that was celebrated across South Africa even though it was fragmented by apartheid's racial segregation laws at the time.
Coetzee's victory also made him the first white boxer to win a world heavyweight title in more than 20 years, but he made it clear after the fight against Dokes how much he disliked being called "the great white hope".
"I feel like I'm fighting for everyone, black and white," Coetzee said. "What makes me happy is that black, brown and white people accept me as their fighter."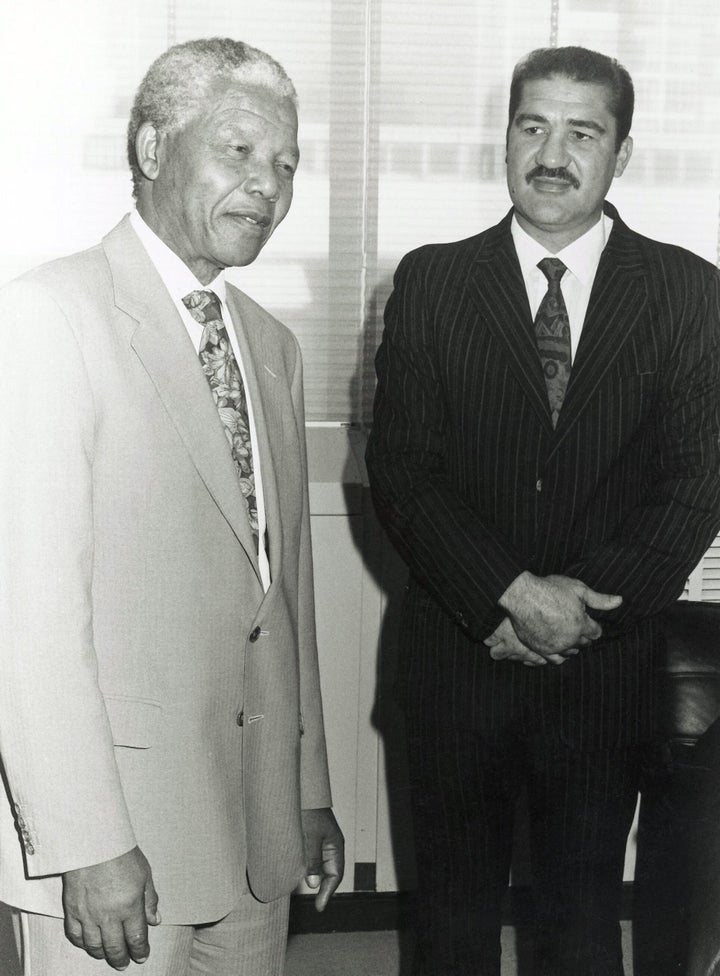 Former South African President Nelson Mandela, left, with Gerrie Coetzee, right.
Media24/Gallo Images via Getty Images
They did so in South Africa, and Coetzee was awarded the Bronze Ikhamanga Order by South Africa's democratically elected post-apartheid government in 2003 for his achievements in boxing and for his contribution to 'nation-building through sport'.
The government said millions of black South Africans rooted for Coetzee during his career, thereby "confounding the false logic of apartheid".
Coetzee said one of his most treasured moments came when Mandela, a huge boxing fan, asked him to meet in the early 1990s. Mandela, who would become South Africa's first democratically elected president in 1994, had just been released from prison after 27 years for fighting apartheid.
"It was overwhelming because the country was preparing for democracy and Mr. Mandela was leading the way," Coetzee said. "It was a surreal moment and he gave me a medal. I was surprised to hear that while in prison he had listened to radio commentary on some of my struggles."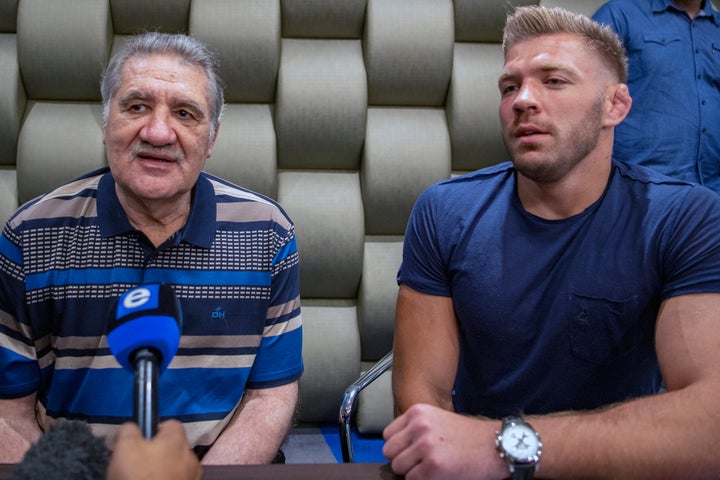 South African heavyweight boxing legend Gerrie Coetzee (left) and kickboxer Dricus du Plessis (right) in 2022.
Gallo Images via Getty Images
At a later meeting with Mandela, Coetzee wanted to give the Nobel Peace Prize winner a gift in return, choosing a medal previously awarded to him by the apartheid government. Mandela didn't even flinch when told where the medal came from, Coetzee said, and graciously accepted the gift.
"Mr. Mandela didn't seem to mind… He saw it as a gift from me and I was grateful for that," Coetzee said.
Coetzee eventually won the heavyweight title on his third attempt after losing to John Tate in a 1979 fight for the WBA belt vacated by Muhammad Ali's retirement. Coetzee also lost a second WBA title shot when he challenged Mike Weaver in 1980 and was stopped in the 13th round.
Coetzee had stopped former undisputed heavyweight champion Leon Spinks in the first round in Monaco 1979 in his first fight outside of South Africa and brought the world to his skills. But it took him another four years to win a title.
Coetzee's victory over Dokes for the WBA title came at a price. He broke his right hand earlier in the fight but still managed to take out Dokes with a series of rights, his manager said. Shortly thereafter he had to have an operation.
Coetzee had ongoing injury problems with that powerful right hand and it underwent multiple surgeries throughout his career, leading to South African heavyweight rival Kallie Knoetze nicknamed Coetzee "Sore Little Hands". Coetzee was sometimes called "The Bionic Hand".
His main nickname, however, was the "Boksburg Bomber," a nod to his working-class hometown near Johannesburg. Coetzee's first professional fight was in 1974, and he often fought black fighters in South Africa in front of racially mixed crowds. He appointed a South African of Indian descent as his media spokesman, which also angered the apartheid government.
In the 1980s, Coetzee agreed to train a young black fighter and invited him to stay with him at his home, despite then-strict apartheid laws that prohibited blacks from living in the same neighborhoods as whites. The police searched Coetzee's apartment and issued him with a court summons. Coetzee said he ignored the subpoena and legally adopted the boy, whose parents had died.
Coetzee fought 40 times, with 33 wins (21 by KO), six losses and one draw.