Governor Brian Kemp says Trump "didn't do a good enough job" to win re-election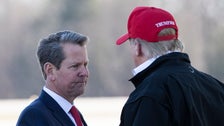 Donald Trump "didn't work well enough" to plead for a second term and that's why he lost, Republican Gov. Brian Kemp told Politico in an interview published Friday.
Kemp became the second prominent Republican in just days to remind Americans that Trump flatly lost re-election but still seeks the GOP's support for another attempt at the presidential nomination.
"He's fading fast," Ryan said. "He's a proven loser who cost us 18 the house, he cost us 20 the White House, he kept costing us the Senate and I think we all know that."
Kemp told Politico that Trump lost re-election because he didn't tell people "what he did and what he wanted to do in a second term."
Perhaps thinking of Trump, he recently told a conservative group that Republicans can't just be against Democrats. "We have to be for something," Politico noted.
Kemp rejected pressure from Trump to undercut Georgia's vote for Joe Biden in the presidential election. Trump repaid him by backing David Perdue, Kemp's main rival for re-election, who, like Democrat Stacy Abrams, lost to Kemp in the gubernatorial race.