Hulu is parting ways with Rick And Morty animator Justin Roiland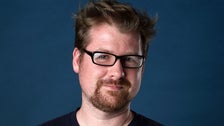 Hulu has ended his relationship with animator Justin Roiland, a day after Adult Swim announced he would no longer be involved with the popular animated series Rick and Morty.
The move follows reports that Roiland is facing two domestic violence charges, first reported by NBC News earlier this month.
Though Roiland was a producer and voice actor on two Hulu shows, Solar Opposites and Koala Man, that's no longer the case, according to a terse statement from the streamer.
"We have ended our collaboration with Justin Roiland," the statement said.
Like "Rick and Morty," the two shows will continue without his involvement.
Roiland's departure from all his shows comes as he awaits trial on felony charges of assault and false imprisonment through threat, violence, fraud and/or deception.
Charges were originally filed in May 2020, and Roiland was arrested and released on $50,000 bail in August 2020.
At his arraignment in October of that year, Roiland pleaded not guilty, according to NBC News.
T. Edward Welbourn, a member of Roiland's legal team, told HuffPost earlier this month that "Not only is Justin innocent, but we expect this matter to be dismissed once prosecutors have completed their methodical review of the evidence." "
He did not respond to requests for comment on Adult Swim and Hulu's decisions to part ways with Roiland.
Roiland's next court hearing is scheduled for April 27.