'I ripped her to pieces': Marjorie Taylor Greene reportedly erupted at balloon briefing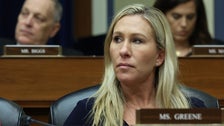 Rep. Marjorie Taylor Greene (R-Ga.) apparently once again made a spectacle at a gathering of House lawmakers – this time in a secret briefing on the suspected Chinese spy balloon.
"I ripped her to pieces!" Greene gleefully boasted about The Hill when asked about her behavior at Thursday's briefing.
An unidentified lawmaker at the meeting described her behavior as "irrational," according to the outlet.
"When she had to ask questions, she would yell, say 'bullshit,' and, you know, 'I don't believe you.' Just yelling and yelling – irrational in my opinion," the lawmaker told The Hill.
Greene reportedly complained that she had to wait her turn and then lunged at the military officials present at the briefing.
"I had to stand in line all the time. I was the penultimate person, I think, and I chewed them up just like the American people would have done," Greene told The Hill.
Greene said she was outraged that the balloon wasn't blown out of the sky sooner. It hovered over the US for four days before being shot down off the Atlantic coast last Saturday to avoid unnecessary risk to civilians.
Greene fumed last week that former President Donald Trump would never have allowed the balloon to even cross the US border – but the Defense Department later revealed that three suspected Chinese surveillance balloons had "crossed" the country while Trump was president.
The latest outbreak erupted just two days after Greene yelled "Liar!" when President Joe Biden chided Republicans in his State of the Union address for their strategy to erode Social Security. In fact, several Republicans — seemingly unbeknownst to Greene — are doing just that.
Her behavior led to House Speaker Kevin McCarthy (R-Calif.) silencing Greene on national television as he sat behind Biden while the president delivered his speech.
Longtime Democratic adviser James Carville later slammed hecklers, including Greene, for their behavior during Biden's speech.
"The level of white trashdom in the Republican Party is staggering," he told MSNBC's Ari Melber on Thursday.