Ireland's capital buzzes with activities for visitors of all ages
Almost every visitor to Dublin stops at the Guinness Storehouse, and so should you, especially if you're interested in how the brewery makes their famous dark stout. The tour offers a seven-story experience rounded out with a complimentary tasting in the 360-degree Gravity Bar with panoramic views of Dublin and the River Liffey. To avoid the crowds, buy a timed ticket towards the end of the day, when all the tourist buses have gone. In addition, several smaller, independent breweries are worth visiting, including Diageo's St James's Gate Brewery, Five Lamps Brewery and The Porterhouse Brew Co. If you want to sip spirits, don't miss the Jameson Irish Whiskey Experience, which you can sign up for a tour and tasting, cocktail classes and even the opportunity to bottle your own whiskey – straight from the cask. Discover more innovative tasting opportunities at Teeling Whisky, Pearse Lyons Distillery (in a converted church on James Street) and Roe & Co Distillery (in the former Guinness power station).
Another must-see is Trinity College (founded by Queen Elizabeth I in 1592) with its cobbled courtyards; old libraries (kids will love the Harry Potter-esque Long Room at the Old Library); and the stunningly beautiful Book of Kells, widely believed to be the oldest book in the world.
No trip to Dublin is complete without stopping at a local pub for a pint and some traditional Irish music. O'Neill's Pub & Kitchen, just around the corner from Trinity College, offers live music and dancers in an oh-so-Irish setting: cozy cut-glass dividers, ornate wood carvings, comfortably worn leather chairs, and dozens of Irish craft beers to tap. O'Donoghues has been around since 1789 and is as traditional as it gets. The Dubliners, a popular Irish folk band, got their start here. Enjoy live music seven nights a week with bands from all over Ireland. The Cobblestone (in Smithfield, one of Dublin's oldest neighborhoods) isn't fancy, but it's authentic; Locals come here for good beer and traditional music. Most sessions start around 9:30pm – or when a few musicians gather – and last until 12:30am. During the day, especially Sundays, many pubs start at 2pm. Children are welcome in most Irish pubs until 8pm
Dublin is the ultimate child-friendly city. At the museum, attached to Christ Church Cathedral (founded 1030), costumed performers bring the city's Viking and medieval history to life – including a full box of period clothing for kids and adults to try on. Older children will enjoy a spooky descent into the crypt of St. Michan's Church to see the nearly 1,000-year-old mummies. The National Leprechaun Museum isn't just about little men in green outfits; It illuminates the magic of Irish folklore and storytelling. A big plus: one quirky room with a mythical and spooky forest, and another with oversized furniture designed to make you feel as small as a goblin. In the 1,700-acre Phoenix Park (twice the size of New York's Central Park), kids can explore Ashton Castle's medieval tower house, visit Dublin Zoo and observe the resident fallow deer. According to Irish lore, fairies meet between the bushy hawthorn trees that line the park's walled edge.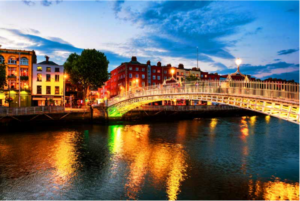 As a UNESCO City of Literature, Dublin has been home to Nobel Prize winners WB Yeats, George Bernard Shaw, Samuel Beckett, Seamus Heaney and of course James Joyce, whose novels Dubliner and Ulysses immortalized the city. Independent bookstores abound. Ulysses Rare Books has a remarkable selection of first editions by Joyce, Yeats and Oscar Wilde (he also lived here). Sweny's Pharmacy, mentioned in Ulysses, also proves to be an excellent source for used books. The Winding Stair is a treasure trove of new and used books and, better yet, you can order a platter of fried cod at its restaurant overlooking the River Liffey's iconic Ha'penny Bridge.
Dublin has over 700 pubs which form the cornerstone of the city's social life. Dublin's pubs have not only featured in famous literary works such as Joyce's Ulysses, but have also served as a home away from home for some of the world's most celebrated writers. Joyce liked to hang out at Davy Byrne's, Brendan Behan frequented Neary's and WB Yeats preferred Toners. Sign up for a Dublin Literary Pub Crawl, led by actors who offer literary histories peppered with famous quotes, pausing with a pint or two along the way.
According to the National Museum of Ireland, more than 6 million Irish have migrated to the Americas since 1820, and more than 25 percent of the current US population claims Irish ancestry. Retrace your roots at the brilliantly interactive EPIC The Irish Emigration Museum. Upon entering the exhibition you will receive a stamped passport and then follow a path through 20 themed galleries to discover why people left Ireland and how they impacted the world. Next to the museum in Dublin's Docklands, climb aboard the tall ship Jeanie Johnston, an exact replica of the original three-masted starvation ship that successfully transported more than 2,500 passengers from Ireland to North America between 1848 and 1855. Travel back in time to learn the true stories of the passengers who embarked on this grueling journey.
ACCOMMODATION
The Dean Dublin
Hip and stylish with an awkward vibe, The Dean features in-room Smeg mini-fridges and turntables stocked with classic vinyl like John Coltrane, Billie Holiday and the Beatles. Enjoy nightly celebrations at Sophie's rooftop bar with watercolor views of Dublin.
33 Harcourt St, Saint Kevin's, Dublin
$$$$
The Merrio
Top hat porters welcome guests to the stately and tranquil hotel, which is spread over a row of converted 18th-century Georgian town houses. The guest rooms are furnished with antiques and huge marble bathrooms. Treat yourself to high tea and a Michelin-starred restaurant.
Upper Merrion Street, Dublin
$$$$$
The Shelbournes
From the opulent entrance to the large, high-ceilinged guest rooms, The Shelbourne exudes 5-star elegance and old-world charm coupled with exceptional, family-friendly service. A full-time genealogy butler will help you trace your Irish roots. The Lord Mayor's Lounge serves the famous Afternoon Tea.
27 St Stephen's Green, Dublin
$$$$$
EAT
Delahunt
Enjoy cozy, modern food and attentive service amidst vintage touches in a historic building. The living room-style cocktail bar features fold-down chairs, crystal chandeliers and a fireplace.
39 Camden St Lower, St Kevins, Dublin
$$$$
L. Mulligan grocer
Dublin's first real gastropub, housed in a beautifully preserved grocery store, offers simple, fresh and creative food. The menus nestle in old books and the bill comes in a classic candy jar. Large selection of craft beers and ciders.
18 Stoney Batter, Dublin
$$$
Restaurant Patrick Guilbaud
White-gloved waiters at the 2 Michelin-star restaurant serve Irish cuisine with a French twist. Dinner menus change seasonally; daily changing lunch menus. Eight-course tasting menu including accompanying wines.
The Merrion, Upper Merrion Street, Dublin
$$$$$
INFO ON WALKING
Fly into Dublin Airport (served by all major airlines) which is approximately 6 miles north of the city centre. A taxi to the city center costs around $35, depending on traffic, number of passengers, and time and day. Dublin Airport is served by over 1,000 buses and coaches daily serving areas in and around Dublin and cities across Ireland. Seven car rental companies are located on site or in close proximity to the airport.