Jair Bolsonaro signs autographs for fans in Florida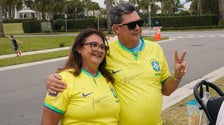 KISSIMMEE, Fla. (AP) — A few dozen fans got Jair Bolsonaro's autographs on Friday, but the controversial former Brazilian president didn't show up to greet them after a stint in hospital earlier this week.
The right-wing populist has been quietly staying with a supporter in the Orlando suburbs since leaving Brazil in late December and skipping the Jan. 1 swearing-in of his left-wing successor. On Sunday, supporters at home who refused to accept his defeat brazenly attacked the Brazilian capital, prompting some lawmakers there and around the US to urge the Biden administration to expel him.
Eduardo Carvalho, 47, a Brazilian-born real estate agent and pastor from Kissimmee, Fla., was among those outside the home of mixed martial artist Jose Aldo on Friday. He said the former president did not foment the capital attack and should be left alone.
"He came here legally, he did nothing wrong, and why — if this is a free country — would we treat a former president like that? It's a shame," he said.
The supporters gave a security guard outside the residence items such as Brazilian-themed T-shirts, hats, banners and pieces of paper to sign. A woman sent in her shoe.
The man went in three times and came back minutes later each time with Bolsonaro's autographs on the items.
Carvalho, who said he supports Bolsonaro for promoting family values ​​and home schooling "free from indoctrination," said he sent a small gift, a letter and an invitation to a religious gathering.
Bolsonaro was hospitalized Monday with an abdominal adhesion from a 2018 stabbing attack, he wrote on Instagram along with a photo of himself lying on a bed.
He hasn't posted anything about his health developments since then, but he told a Brazilian media outlet on Tuesday that he would return to Brazil before his originally planned departure at the end of January.
He entered the United States while still President and would likely have held an incumbent Head of State visa, which would give him at least 30 days after the end of his term before he would have to either leave or apply for a visa change.
A group of 46 Democratic lawmakers wrote to President Joe Biden on Thursday to demand that Bolsonaro's visa be canceled after Sunday's shooting spree in which his supporters rampaged through Congress, the Supreme Court and the presidential palace. The letter said the US should not protect a leader "who has inspired such violence against democratic institutions."
John Raoux of Kissimmee, Florida contributed to this report.