Jeremy Renner in intensive care after surgery, says Rep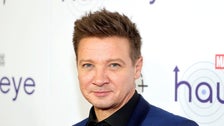 Marvel actor Jeremy Renner underwent surgery Monday after being seriously injured in a snow plow accident on New Year's Day.
"We can confirm that Jeremy suffered blunt chest trauma and orthopedic injuries and underwent surgery today," his rep said in a statement to People. "He has returned from surgery and is in critical but stable condition in intensive care."
"Jeremy's family would like to say thank you to the incredible doctors and nurses caring for him, Truckee Meadows Fire and Rescue, the Washoe County Sheriff, Reno City Mayor Hillary Schieve, and the Carano and Murdock families," the family added explanation added. "They are also enormously overwhelmed and grateful for the love and support from his fans."
The 51-year-old was injured while plowing snow on his property in Reno, Nevada, on Sunday morning. Local authorities said he was flown to a hospital in the area.
Renner plays Clint Barton, also known as Hawkeye, in Marvel Cinematic Universe projects, including the Avengers franchise. He was nominated for an Academy Award for his performances in The Hurt Locker and The Town and is currently appearing in the Paramount+ series Mayor of Kingstown.