Kansas' Bill Self misses the tournament opener against Howard on Thursday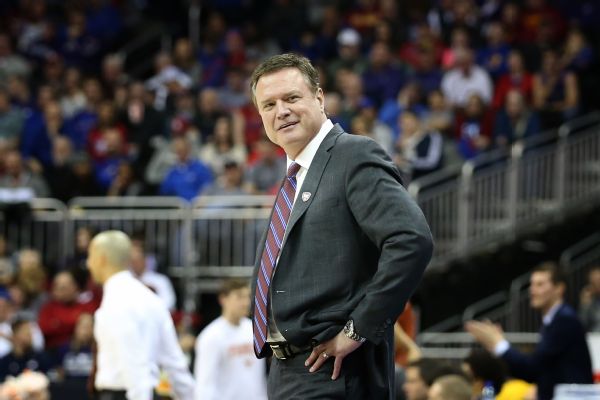 Kansas coach Bill Self missed Thursday's game against Howard as he continues to make good progress after a recent health issue, the school said.
Self missed the Big 12 tournament after undergoing heart surgery last week. He arrived at the hospital on March 8 after complaining of chest tightness and balance problems. Self "underwent standard cardiac catheterization and had two stents placed to treat clogged arteries," the University of Kansas Health System said last week.
He was discharged from hospital on Sunday night and said he's looking forward to rejoining the team this week.
Editors Favorites
2 relatives
Assistant coach Norm Roberts served as assistant head coach during the Big 12 tournament and will do so again on Thursday.
Roberts provided an update on Self during Wednesday's media availability.
"He's doing well today," he said. "He was in practice today, he was in practice last night and at all our meetings. He's fine, he's getting better all the time. We're hopeful and everything is with him day by day but if you ask us guys he's been chasing them pretty well today so he's done really well.
"He's resting and stuff," Roberts added. "Maybe he thinks I talk too much so he lets me talk more. But he's just back to rest. But he's fine.
Self, inducted into the Naismith Memorial Basketball Hall of Fame in 2017, has led Kansas to two national championships and four Final Four appearances – including last season's title win against North Carolina.