Kenan Thompson and Kel Mitchell star in this year's Good Burger sequel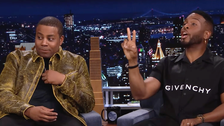 Comedians Kenan Thompson and Kel Mitchell discussed their upcoming film Good Burger 2, the sequel to their legendary 1997 comedy, in an announcement on The Tonight Show on Friday.
Thompson and Mitchell, who starred in the film, which is based on a Nickelodeon skit All That, will reprise their roles as Dex and Ed in a film expected to begin production in May, according to a press release.
"It's been years [in the making]pretty much since the first one," Thompson told Jimmy Fallon.
″Since the first we wanted to do that [part] two," Mitchell added.
The film, slated for release on Paramount+ later this year, finds Dex "crushed" after a failed invention that takes him back to Ed and the Good Burger fast food restaurant.
Dex, who will appear in the film with a new crew, "devises a plan to get back on his feet" before putting the restaurant in jeopardy again, according to a press release.
The sequel plans to bring back Good Burger writers Kevin Kopelow and Heath Seifert, who will also serve as executive producers on the film.
Thompson promised fun in the film's sequel on Friday and hopes for "as many" cameos as possible.
Thompson and Mitchell again parodied "Good Burger" with Fallon during the cold opening of Friday's episode of The Tonight Show.
You can check out their parody below.