Kim Jong Un vows North Korea will 'exponentially' increase nuclear arsenal
North Korean leader Kim Jong Un vowed on Sunday to increase the number of nuclear weapons in his country "exponentially" and further advance his antagonistic ICBM program.
Kim delivered the message after his ruling party met this weekend, declaring South Korea the country's "undoubted enemy" and stepping up his aggressive stance amid a spate of missile launches that are likely to set the tone for the year. North Korea followed up on those statements with a test of short-range ballistic missiles on New Year's Day, which Kim said could land anywhere in South Korea.
The effort is widely viewed as an attempt by Kim to force the international community into negotiations with North Korea and give legitimacy to his government. The country is still subject to tough economic and diplomatic sanctions and has been badly hit by the COVID-19 pandemic.
South Korean President Yoon Suk Yeol responded to the threat this weekend with a clear statement of his own, saying Seoul will punish any provocation to prevent a war on the peninsula. Yoon has taken a much harder line on the North than his predecessor Moon Jae-in, calling the South's northern neighbor the "main enemy."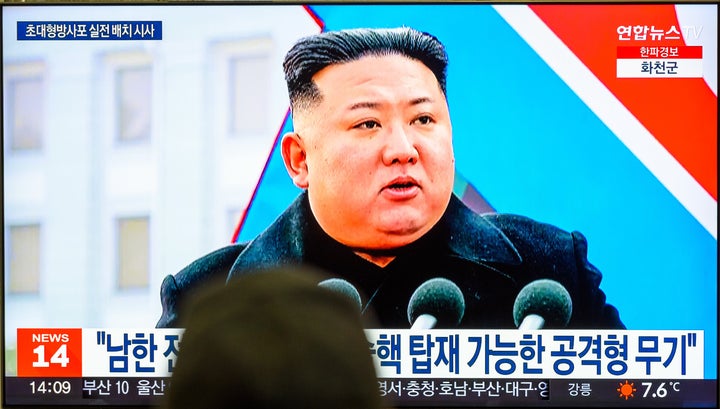 A television screen shows footage of North Korean leader Kim Jong Un during a news broadcast at Seoul's Yongsan train station. Kim stressed the need to "exponentially" increase the number of the country's nuclear arsenal and develop a new intercontinental ballistic missile (ICBM) in the new year, Pyongyang state media reported Jan. 1.
SOPA images via Getty Images
"Our military should definitely punish any enemy provocations with a firm determination not to avoid war," Yoon said, per Yonhap News. "I urge you to consider that the firm mental preparedness and realistic training of our troops can only guarantee strong security."
North Korea launched about 70 ballistic missiles in 2022, Yonhap reported, the most in a single year. Speculation has mounted that the country could conduct a nuclear test in the coming months, in what would be the first in years and a guaranteed rise in international tensions.
"As we welcome the New Year, we urge North Korea to embark on a path for peace on the Korean Peninsula and shared prosperity for Koreans, rather than remaining on a wrong path," South Korea's military said in a statement Monday.