Lizzo loves 'Love Island' UK but is confused by 1 sentence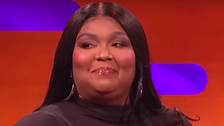 Lizzo feels damn good on British reality TV show Love Island.
Speaking on Friday's episode of BBC's The Graham Norton Show, the Truth Hurts singer admitted she'd watched the dating series – but revealed a term used by the contestants confused her.
"I watch 'Love Island,' so there's a lot of it. 'Mug off', 'I feel like a real mug.' I'm like, 'What's a mug?' A cup is what you drink coffee from. You know, or there's such a thing as a 'mean pitcher', 'Why are you robbing me?' But what does "mug" mean here? I don't think it's the same."
"A cup is a face, isn't it?" suggested host Graham Norton.
"It is? Well, they're going to say, 'I feel like a cup.' I'm like, 'What? How could you make yourself look like a ceramic mug with a… I don't understand. But yeah, I like that a lot.'
"When you're sultry, you're behaving in a disingenuous or shady way. So being mugged means being dumped, lied to, or otherwise disregarded by the other half."