Melanie Lynskey wows Jimmy Fallon with breathtaking Drew Barrymore impression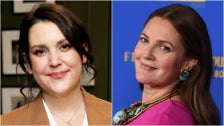 Could Melanie Lynskey's Next Role Be… Drew Barrymore?
The 'Last of Us' star appeared on 'The Tonight Show' on Thursday, where she stunned host Jimmy Fallon with her spot-on impression of her former 'Ever After' co-star.
The New Zealand-born actor opened up about the sweet reaction Barrymore had when Lynskey gave her a gift while they were working on the 1990s period drama. But instead of simply describing what happened, she got a full grasp of Barrymore's distinctive voice and mannerisms.
Watch it below at about the 2:15 mark.
Lynskey downplayed her mimetic skills, quickly adding, "It wasn't a very good impression."
But Fallon was already standing up and exclaiming: "That was an incredible impression! That's Drew, by the way!"