Nipa Thai review
While London's dining scene continues to interest all visitors, moments of culinary glory aren't as easy to come by as they used to be, especially in a post-COVID-19 era of tight budgets, recovering supply lines and staff shortages. Thankfully, that's not always the case – and Nipa Thai, located across from Hyde Park in Royal Lancaster London, is proof.
One of the moments I was most looking forward to on my recent trip to London was having dinner at this renowned restaurant. Having spent some time in Thailand, I'm just a little jaded with what Thai restaurants have to offer outside of the country — but my experience at Nipa Thai was one of culinary déjà vu, and others seem to agree: the restaurant has the Thai Select award , an honor bestowed by the Thai government for authenticity.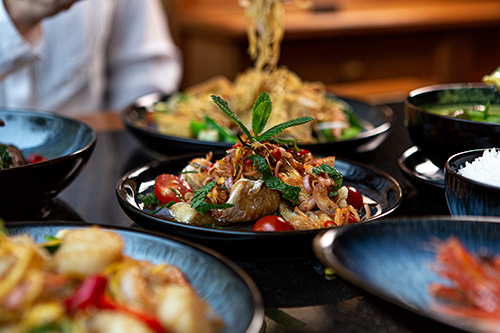 This authenticity is due in large part to the all-female kitchen team, all of whom hail from Thailand. Chef Sanguan Parr, who leads the team, learned the skills of ingredient selection, cooking and seasoning as a young woman while helping her mother prepare meals. Menu highlights include the traditional Pad Thai, which is one of Chef Parr's favorite dishes.
I ate with my husband during my visit, and we selected two appetizers to share: phoo nim, soft-shelled crab deep fried with white pepper and salt; and Tod Mun Pla, fish cakes served with sweet chili sauce and a mix of cucumber relish and roasted peanuts.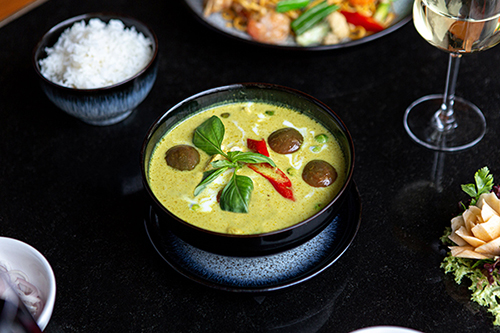 If you're sensitive to spices, pay close attention to the little bell pepper icon found next to each dish description on the menu. My pepper-free entree, Koong Tod Kra Tiem Prig Tai (prawns fried with pepper, coriander, and crispy fried garlic) was a delightful two-plus on my oversensitive, personal spice scale, while my husband's Phad Char double-pepper pla (fried sea bass with Thai eggplant, lemongrass, red chili, lime, sweet basil, and peppercorns) was a solid eight for me. I couldn't help but try it as my own meal was so delicious – and despite the slightly fiery aspects of the dish, I reached for a second taste.
The menu also offers a selection of vegetarian dishes, as well as multi-course menus named after cities in Thailand. Located above the hotel's lobby level, the restaurant offers a visually relaxing environment with its décor of rich tones and wood accents. Nipa means "shining light" in Thai, and the combination of exceptional food, great atmosphere and outstanding service makes it just that.
Nipa Thai
Royal Lancaster London
Lancaster Terrace
London, W2 2TY
United Kingdom
Tel. 44 207 551 6000