OOPS! CNN misses Midnight in botched New Year's Eve show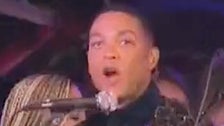 CNN's much-discussed alcohol ban didn't prevent at least one major mistake on New Year's Eve, as the network missed the countdown in the Central time zone.
The network featured Don Lemon and revelers in New Orleans dancing to Juvenile's "Back That Azz Up" as midnight approached and 2022 ended with no countdown or mention.
Lemon may have noticed it seconds too late. As he threw beads into the dancing crowd, he could be heard saying something about a countdown just after midnight. The song went on a little longer, leading to an awkward split-screen image of fireworks and hugs in Nashville, also in the Central Time Zone, as 2023 creeps in unnoticed in New Orleans:
Some on social media noted that the show appeared to have some technical issues that prevented Lemon from hearing his producers throughout the evening.
Whatever the reason, viewers definitely noticed the missed midnight: