Patti LaBelle fell off the stage in the middle of the concert after a bomb threat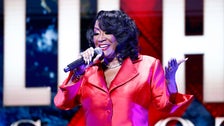 Patti LaBelle was pushed off the stage of her concert in Milwaukee, Wisconsin, on Saturday night following a bomb threat, authorities said.
Video from the event features the soul singer yelling "Wait!" when two men who appeared to be security guards abruptly escorted her off the stage while she was speaking to the audience.
Concert-goers were evacuated and the show was postponed.
"Tonight's Patti LaBelle show at the Riverside Theater has been postponed after a bomb threat was investigated by the Milwaukee Police Department," concert promoter Pabst Theater Group said in a statement, according to CNN.
"We are grateful for the efforts of the Milwaukee Police Department and our customers and employees to ensure their safe and orderly exit. We are working with the artist to reschedule the show."
A spokesman for the Milwaukee Police Department said the building was searched by K9 units and no explosive devices were found. "There is currently no danger to the public," the statement said.
"Everyone left the theater very calm and in disbelief," he said. "I've heard a lot of comments about how sad it is for someone to do such a pathetic stunt."