Possible backup dancers for Rihanna's halftime show Trek Across Parking Lot
play video content
TMZSports.com
Rihanna is about to take the stage during the Superbowl halftime show — and you'd think the NFL officials already had their backup dancers in… you'd think.
Check out this clip our photographer took about 25 minutes ago – you'll see NUMEROUS people in elaborate white outfits walking through the parking lot just outside State Farm Arena in Arizona (where the game is taking place). The question… are you all with RiRi???
play video content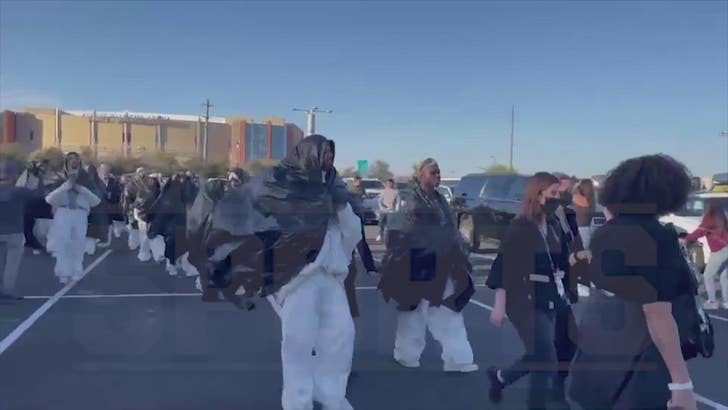 TMZSports.com
That's exactly what we asked them – especially when they tried to cover themselves with garbage bags, tried to head for the DL but stuck out like sore thumbs.
Some of them actually gave us answers…including when we referred to them as "Rihanna's Army." They seemed to confirm that, and one of them even told us how deep they rolled… there are about 280 of them it seems.
Waiting for your permission to load the Instagram media.
We don't know for sure these are Rihanna's dancers, but the chances seem high based on what we're seeing/hearing right in front of us. If so, it's big ol' SMH to the folks who planned this. There must be a back door entrance/way they could have taken. 😅
It's almost showtime…so we'll know soon enough here.