R. Kelly's legal team is investigating the unauthorized release of the album 'I Admit It'.
R. Kelly's legal team is solving the mystery of who released an unauthorized album using his name and recordings, and his attorney says they already have a few possible suspects in their sights.
R. Kelly's criminal defense attorney, Jennifer Bonjean, told TMZ that the disgraced singer's attorneys, entertainment lawyers and trusted friends are all trying to get to the bottom of who currently has access to his music catalogue. She says they have a small group of people they've identified as the perpetrators… but notes that a potential problem could be his material changing hands.
Bonjean says she spoke to R. Kelly on Friday afternoon – saying he was surprised and upset at the music being released without his permission.
Bonjean tells us that such things were a recurring problem for R. Kelly … and claimed that a number of studio equipment, computers and masters were stolen shortly after his 2019 arrest. She says there was also a problem with his calls and emails stolen from jail.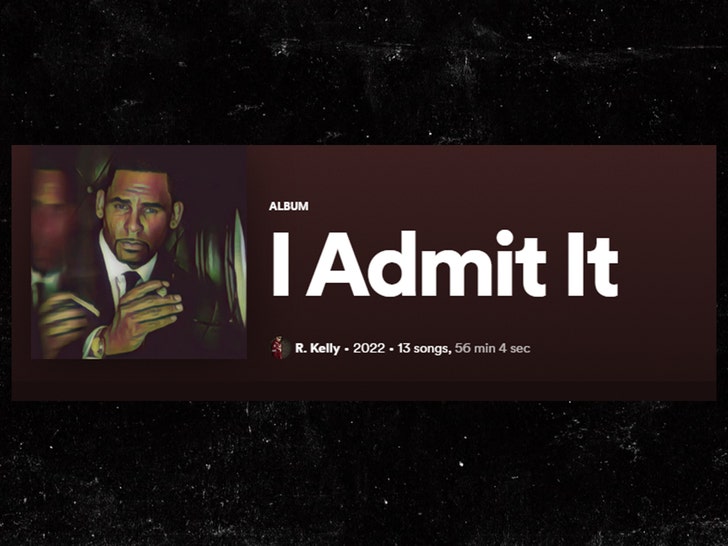 As we reported, an album titled "I Admit It," featuring a number of R. Kelly's SoundCloud tracks, quietly made its way to major streaming platforms on Friday, but was quickly removed. A source at Sony Music told us that it appears to have been pirated.
FYI – The Federal Bureau of Prisons told TMZ that it conducted an investigation and found that R. Kelly did not produce any songs with devices behind bars. Regarding Bonjean's claims that the FBOP stole calls and emails, we were told that the FBI "does not comment on any pending litigation."