Reporter at Axios after pushing back Ron DeSantis administration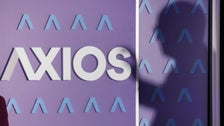 Axios split from Tampa-based reporter Ben Montgomery this week after a Florida Department of Education employee leaked an email Montgomery sent in response to a letter from the department's press office.
On Monday, the press office sent out an email headlined "In case you missed it," followed by a message from Gov. Ron DeSantis's (R) office about a roundtable discussion the governor is hosting on "uncovering justice and Inclusion of Diversity" had deterred fraud in higher education."
"This is propaganda, not a press release," Montgomery replied.
DeSantis, who is widely expected to launch a presidential campaign, has been waging a vocal war on "vigilance," with even some conservatives worrying about abusing his governing powers. Its targets include schools and colleges; DeSantis claims they are inappropriately forcing the "awakened" ideology on students.
Some personal news: I made crepes this morning for the first time in years. Strawberry compote and whipped cream. They were delicious. https://t.co/1rG4idEZsr
— Ben Montgomery (@gangrey) March 15, 2023
Alex Lanfranconi, Director of Communications at the Ministry of Education, Posted a screenshot of the email exchange to his personal Twitter account on Monday tagging both the reporter and his employer.
Axios confirmed to HuffPost that Montgomery is no longer with the company, but declined to comment on the reasons. Montgomery did not immediately respond to a request for comment.
Montgomery addressed the incident publicly retweet a Vanity Fair reporter who said he was fired Monday over the email.
"Some personal news: I made crepes this morning for the first time in years," he wrote Wednesday. "They were delicious."
He was responsible for editing Axios' newsletter in Tampa Bay, one of about two dozen local news publications the smart brevity provider launched in 2021. Before that, Montgomery worked for the Tampa Bay Times.