Riley Keough shares latest photo with late mother Lisa Marie Presley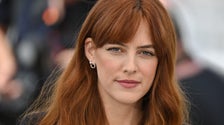 Riley Keough, whose mother, Lisa Marie Presley, died Jan. 12 after suffering cardiac arrest, shared the last photo they took together on Tuesday. The heartfelt tribute came just days after Keough announced the birth of her first child with husband Ben Smith-Petersen.
"I feel blessed to have a photo of the last time I saw my beautiful mom," Keough commented on the Instagram post of her and Presley at a Jan. 8 event to mark Elvis Presley's birthday at the Formosa Cafe in to celebrate West Hollywood. "Thankful @georgieflores took this."
During a Sunday memorial service for Lisa Marie Presley at Graceland in Memphis, Tennessee, Smith-Petersen took the stage to read Keough's words aloud, according to People. Keough's tribute, read as she sat in the front row, also served as an unexpected child announcement.
"Thank you for showing me that love is the only thing that matters in this life," Smith-Petersen read. "I hope I can love my daughter like you loved me, like you loved my brother and sisters. Thank you for giving me strength, my heart. … I am a product of your heart."
A Keough rep later confirmed to Page Six that she and Smith-Petersen had indeed had a daughter. The couple, who married in 2015, have kept both their names and date of birth secret. However, Keough's tribute clearly showcased her mother's strengths.
"I am eternally grateful to have spent 33 years with you," Smith-Petersen read. "I am confident that I have chosen the best mother in the world for me. … I remember everything. I remember you bathed me when I was a baby. I remember how you cuddled me… and how you smelled."
"I remember all the notes you left in my lunchbox every day," he continued. "I remember the feeling I had when I saw you pick me up from school… how it felt to be loved by the most loving mother I've ever known. I hope you finally know how much you were loved here."
Keough previously endured the untimely death of a close relative when her brother Benjamin died by suicide in July 2020 at the age of 27. Presley, who is survived by Keough and twin daughters Finley and Harper Lockwood, tragically predeceased her own mother, Priscilla Presley.
Lisa Marie Presley was buried next to her father Elvis Presley at Graceland.