Rolling Stone snubs Celine Dion and fans call out Titanic blunder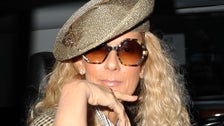 The list excludes all-time greats like Nat King Cole, Tony Bennett, Dionne Warwick and Johnny Mathis, with one exclusion in particular looking like a titanic blunder: Celine Dion.
Rolling Stone tried to anticipate the reaction to some of the snubs by saying in the intro that this is a "Greatest Singers" list, not a "Greatest Voices" list.
"Talent is impressive; Genius is transcendent," the editors wrote.