Sample Osaka's diverse dining and shopping options
The city may be just 400km west of Japan's capital, Tokyo – just three hours on the shinkansen bullet train – but Osaka exudes a very different vibe. A major port and trading center, it has long served as a gateway to southern Japan and is known as the "Nation's Kitchen" for its historical importance in the rice trade. It is also the culinary capital of Japan with a strong tradition of eating out. Be sure to try the famous takoyaki, a type of octopus dumpling with bits of tempura, pickled ginger and spring onions. You can see the best the city has to offer on a foodie tour, where a local guide takes you to Osaka's hidden spots. No matter how good your Google skills are, you just wouldn't find some of these backyard amenities yourself, so it's worth the price. Check out tour operators Backstreet Osaka Tours, City Unscripted Osaka and Taste Osaka.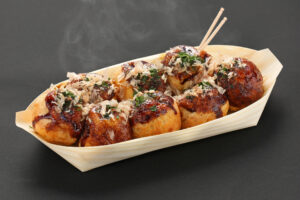 Osaka is also known for shopping, especially vintage American fashion, so much so that an entire neighborhood takes its name from the abundance of shops that can be found there. America Mura, or Amemura, is proving to be a great place to wander around. You don't need a guide here as there is more than enough to keep you busy for an afternoon on your own. It's also central, so you might consider staying in one of the many hotels in the area. If you'd rather enjoy Japanese retail therapy, visit local brand stores like United Arrows, Beams and Edwin.
Another option: take a trip to the 16th-century Osaka Castle, one of Japan's most famous landmarks. If you want a quick spin, opt for a self-guided tour, but those interested in history will benefit from a private tour. Sports fans visiting during baseball season can watch a Hanshin Tigers game at Hanshin Koshien Stadium. Just don't get too excited and jump off the Ebisu Bridge into the Dotonbori Canal as some fans are known to do after their team's victory.