Sharon Stone tearfully says she lost a fortune 'to this bank thing'
Sharon Stone may have been a victim of the Silicon Valley bank scandal.
The actor gave a rousing speech to encourage donations while accepting the Courage Award at a fundraiser for the Women's Cancer Research Fund on Thursday. At a certain point in her speech, tears came to her eyes.
"I'm a technical idiot, but I can write a f***ing check," Stone told the audience, according to Entertainment Tonight. "And at the moment that's also courage, because I know what's going to happen. I just lost half my money on this bank thing and that doesn't mean I'm not here."
It's not clear what "banking thing" Stone was referring to — whether it had to do with the collapse of Silicon Valley Bank, the resulting stock market crash, or something else entirely. The regional lender collapsed within two days of a classic bank run last week that saw many customers withdraw their deposits. (BuzzFeed, HuffPost's parent company, has a banking relationship with SVB.)
Stone, 65, was honored for raising breast cancer awareness. She addressed a crowd at the Beverly Wilshire Ballroom in Beverly Hills, California, which also included Rebel Wilson, Maria Bello and Lori Laughlin. During her remarks, Stone chronicled her own past health scares.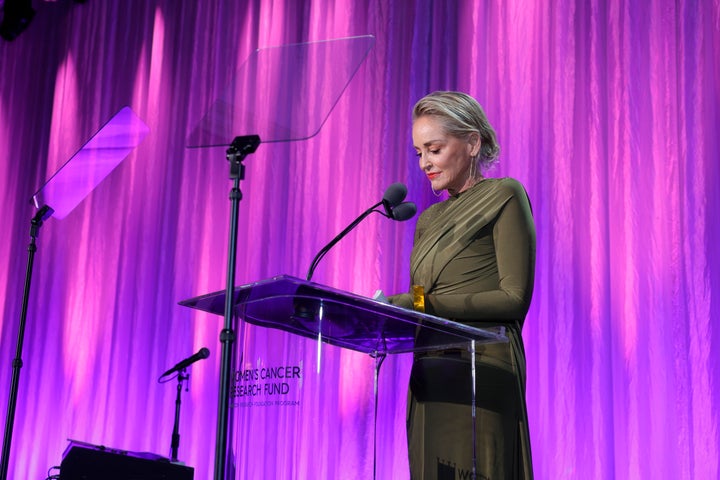 Sharon Stone tearfully encouraged a crowd to donate to the Women's Cancer Research Fund on Thursday as she described what she described as her financial losses on "this bank thing."
Stefanie Keenan/WCRF/Getty Images
"These mammograms are no fun," Stone said, per ET. "And for someone like me who was told I had breast cancer because I had a tumor that was bigger than my breast and they were sure there was no way I could have a tumor without it being cancer it not."
"But I went to the hospital and I said, 'If you open me up and it's cancer, please take both breasts,' because I'm not a person defined by my breasts," she continued. "You know, this might strike me as odd since you all acted that way."
Stone recently revealed she underwent breast reconstruction surgery in 2001 after doctors discovered "gigantic" tumors, according to The Hollywood Reporter. She urged the crowd never to "no mammogram, no blood test, no surgery."
The night reportedly ended with a performance by Maroon 5, whose members donated proceeds to the night's cause. Stone, whose brother recently died at the age of 57, concluded her speech in his honor – and with a rallying cry to fight for women's rights.
"My brother just died, and that doesn't mean I'm not here," she said. "This is not an easy time for any of us … but I'll tell you what, I'm not going to let any politician tell me what I can and can't do."
"So get up," she said. "You don't dare. That's courage."