Snoop Dogg and Tupac were "out-gangstered" by Dionne Warwick for misogynistic lyrics.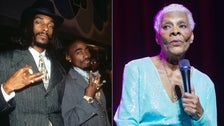 Singer Dionne Warwick was so fed up with the misogynistic lyrics of rap icons Snoop Dogg and Tupac Shakur that she invited her and imposing Death Row Records co-founder Suge Knight over to her home for an apprenticeship.
As Snoop recalled on CNN's documentary Dionne Warwick: Don't Make Me Over, she told them to arrive at 7 a.m., per CNN. He said they were so "fearful" that they got there eight minutes early.
Warwick, he said, demanded that they call her a "slut" to see how that made them feel.
"You're all going to grow up," Warwick said, according to Snoop's retelling. "You will have families. you will have children You're going to have little girls, and one day that little girl is going to look at you and say, 'Daddy, did you really say that? Is that really you?' What are you going to say?"
Both Snoop and Tupac regularly used terms like "bitch" and "ho" in their songs back then. Warwick said in the documentary that "these kids are expressing themselves," which is their right, but there was a right "way to do it."
Snoop said he took it to heart.
"She examined me at a time when I thought I could not be screened," he said in the documentary. "We were about as gangster-ish as you can get, but that day at Dionne Warwick's house, I think we turned out to be gangsters that day."
He added: "Dionne, I hope I became the gem you saw when I was the dirty little rock that was in your house. I hope I make you proud."
Snoop later raised daughter Cori along with his sons Cordé, Cordell, and Julian on People. Tupac was shot dead in Las Vegas in September 1996 at the age of 26.
Warwick spoke about the sit-down on The Real last year. When the rappers felt like "dissing them," Warwick said, she said she reminded them, "If I hadn't cared about you, you wouldn't have been invited to my house."
"They all kind of knew I was pretty serious," Warwick said. "We had something to discuss. I beat them up and they wanted to know why I'm beating them up."
Watch Dionne Warwick: Don't Beat Me Up on Amazon Prime.