Stephen Colbert mocks Fox News for his stupid new freakout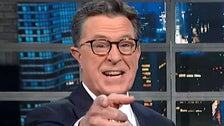 Stephen Colbert is driving Fox News into overdrive for his latest attempt at stirring up an outrage, this time about the Xbox video game system.
A recent software update allows older models to go into a low-power mode when not in use, as part of company owner Microsoft's push to reduce carbon emissions.
And Fox News has melted about it, with network host Ainsley Earhardt accusing Microsoft of "waking up to climate change, too."
"You want us to turn off our Xbox?" Colbert collapsed in mock outrage. "What's next? They're going to tell me to turn off my car engine when I drive into the garage? How am I supposed to fall asleep now?"
Colbert said Fox News went further by addressing "grooming" children.
Jimmy Failla, a contributor to the right-wing network, accused Microsoft of "trying to get your kids involved in climate politics at an earlier age."
"You're right, they're after the kids," Earhardt agreed.
Colbert also sarcastically agreed.
"Yes, why are they corrupting our children's innocent activities like Italian plumbers picking mushrooms and killing turtles or driving a stolen ice cream truck through a crack house," he said.
See more in his Wednesday monologue: