Stephen Colbert taunts Donald Trump with a new 'favorite' part from ex-Prez's legal dramas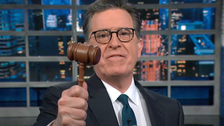 Stephen Colbert taunted Donald Trump for the seemingly endless revolving door of legal counsel he uses to defend him amid multiple investigations.
Colbert's new "favorite part" of the legal dramas enveloping the former president is how he now has to "hunt through the discount lawyer's box for new attorneys, like the one he recently sent on cable news, Joe Tacopina," who " Late show," the host said on Wednesday.
The late-night host then tried to understand Tacopina's reasoning for Trump's lies, but couldn't.