Strong earthquake in Ecuador kills at least 4
QUITO, Ecuador (AP) — A powerful earthquake struck southern Ecuador and northern Peru on Saturday, killing at least 15 people, trapping others under rubble and sending rescue teams onto roads littered with debris and downed power lines.
The US Geological Survey reported an earthquake with a magnitude of about 6.8 that struck just off the Pacific coast about 50 miles (80 kilometers) south of Guayaquil, Ecuador's second-largest city. One of the victims died in Peru, while 14 others died in Ecuador, where authorities also reported at least 126 people were injured.
Ecuadorian President Guillermo Lasso told reporters the quake "without a doubt… caused alarm among the population." Lasso's office said in a statement that 12 of the victims died in the coastal state of El Oro and two in the highland state of Azuay.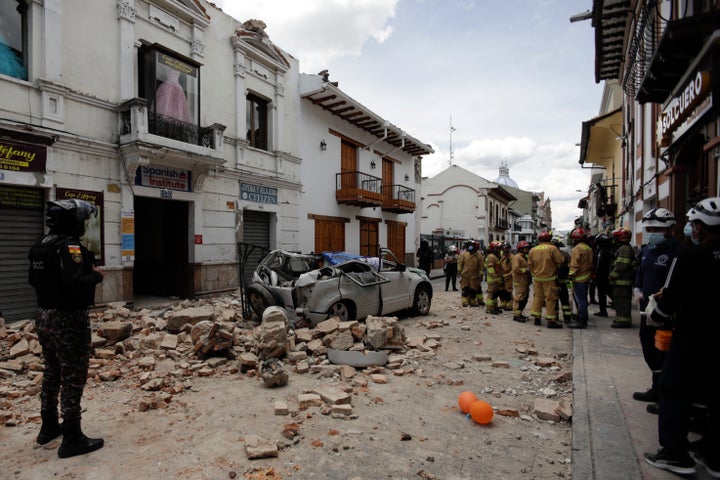 Rescue workers stand next to a car crushed by debris following an earthquake in Cuenca, Ecuador, Saturday March 18, 2023. The US Geological Survey reported a magnitude 6.7 earthquake about 50 miles south of Guayaquil. (AP Photo/Xavier Caivinagua)
Me he comunicado con @cetorresb para que @Riesgos_Ec evalue los efectos produced por sismo ocurrido hace a momento en Balao, Guayas. Hago un lamado a la calma ya informarse por canales oficiales.
— Guillermo Lasso (@LassoGuillermo) March 18, 2023
In Peru, the earthquake was felt from the northern border with Ecuador to the central Pacific coast. Peruvian Prime Minister Alberto Otárola said a 4-year-old girl had died from head trauma sustained when her home collapsed in the Tumbes region on the border with Ecuador.
One of the victims in Azuay was a passenger in a vehicle that was crushed by debris from a house in the Andean community of Cuenca, according to the Risk Management Secretariat, Ecuador's emergency agency.
In El Oro, the agency also reported that several people were trapped under rubble. In the community of Machala, a two-story house collapsed before people could evacuate, a pier gave way and the walls of a building caved in, trapping an unknown number of people.
The agency said firefighters were working to save people while the National Police surveyed the damage. Their work was complicated by downed wires that disrupted phone and electricity service.
Machala resident Fabricio Cruz said he was in his third floor apartment when he felt severe shaking and saw his TV hit the floor. He immediately set off.
"I heard my neighbors screaming and there was a lot of noise," said Cruz, a 34-year-old photographer. He added that as he looked around, he noticed the collapsed roofs of the surrounding houses.
The Ecuadorian government also reported damage to health centers and schools. Lasso said he will travel to El Oro on Saturday.
In Guayaquil, about 270 kilometers southwest of the capital Quito, authorities reported cracks in buildings and houses and some collapsed walls. Authorities ordered the closure of three vehicle tunnels in Guayaquil, which anchor a metropolitan area of ​​over 3 million people.
Videos shared on social media show people gathered on the streets of Guayaquil and in surrounding communities. People reported objects falling into their homes.
A video posted online showed three hosts at a show arrow from her studio table as the set trembled. They initially tried to shake it off as a slight tremor, but soon fled the camera. One host hinted that the show would be going on a commercial break, while another reiterated, "My god, my god."
Luis Tomalá was fishing with others when the earthquake struck. He said their boat started moving, "like a racehorse, we got scared, and when we turned on the radio, we heard about the earthquake." At that point, Tomalá said, his group decided to stay at sea , because she feared a tsunami could develop.
A report by Ecuador's Adverse Events Monitoring Directorate ruled out a tsunami threat.
Peruvian authorities said the old walls of an army barracks in Tumbes had collapsed.
Ecuador is particularly prone to earthquakes. In 2016, an earthquake concentrated farther north on the Pacific coast in a sparsely populated area of ​​the country killed more than 600 people.
Machala student Katherine Cruz said her home shook so badly she couldn't even get up to leave her room and flee onto the street.
"It was awful. I had never felt anything like this in my life," she said. ___
Associated Press writers Regina Garcia Cano in Caracas, Venezuela and Franklin Briceño in Lima, Peru contributed to this report.