The Biden administration is urging TikTok owners to sell or face a nationwide ban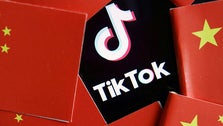 The Biden administration is reportedly demanding that TikTok be sold by its Chinese owners or risk a ban in the US
The move is an escalation of efforts by federal officials to address national security concerns about the owner of Beijing-headquartered social media company ByteDance. TikTok, a popular short-form video app, is used by more than 100 million Americans, raising concerns about the company's ties in China and its handling of user data.
TikTok is "disappointed with the outcome," a spokesman told NPR of the apparent ultimatum.
TikTok has been negotiating for more than two years with the Committee on Foreign Investments, or CFIUS, a committee made up of officials from multiple government agencies including the Departments of Finance, Justice, Homeland Security, Defense and Commerce, for a deal that could make it possible for TikTok to do so to continue operations in the US with stronger safeguards to protect against cybersecurity and privacy risks.
TikTok argued that CFIUS' requirement would not resolve US officials' data concerns.
"If protecting national security is the goal, a divestiture does not solve the problem: a change in ownership would not introduce new restrictions on data flow or access," said Brooke Oberwetter, spokeswoman for TikTok, in a statement. "The best way to address national security concerns is transparent, US-based protection of US user data and systems with robust third-party monitoring, review, and verification that we already implement."
TikTok CEO Shou Zi Chew is scheduled to testify before the House Energy and Trade Committee next week.
Earlier this month lawmakers introduced bipartisan legislation that would authorize the Biden administration to ban foreign adversary-sourced technology from operating in the United States if it poses a threat to national security, effectively paving the way for a pave the way for a possible ban on TikTok.