The school was banned from sports games after refusing to play with a trans athlete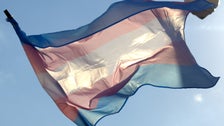 A Christian school in Vermont has been banned from participating in future state athletic organization tournaments after it lost an all-girls basketball game last month because the opposing team had a transgender athlete.
Mid Vermont Christian School in Hartford was notified Monday that it violated the Vermont Principals' Association anti-discrimination guidelines when it lost the game. The school can therefore no longer participate in future tournaments sanctioned by the VPA.
"The VPA reaffirms its continued support of transgender student-athletes not only as part of building an inclusive community where every student can thrive and thrive, but also as a clear expectation of Vermont state law in the Agency of Education Best Practices and in of the VPA policy regarding transgender student athletes," the VPA said in a statement announcing its decision.
It was not clear how long the ban, described as immediate, will remain in effect. A VPA representative did not immediately respond to a HuffPost request for comment.
Mid Vermont Christian School principal Vicky Fogg said the school was disappointed with the VPA's decision and would appeal.
"Canceling our membership is not a solution and does nothing to solve the very real issue of safety and fairness facing women's sport in our beloved state. We urge the VPA to reconsider their policies and balance the rights of all athletes in the state," Fogg said in a statement shared with HuffPost on Wednesday.
Mid Vermont Christian School refused to play during the girls' state basketball playoffs at Long Trail School in Dorset on February 21.
Fogg confirmed to local news outlets at the time that the team decided not to participate "because we believe playing against an opponent with a biological male endangers the fairness of the game and the safety of our players."
More than a dozen states have enacted laws or enacted statewide rules that would prohibit or restrict participation in transgender sports. Proponents of such rules argue that allowing transgender athletes born male to compete in women's sports gives the athletes an unfair physical advantage over cisgender women and girls.
Opponents say the rules are set by misguided stereotypes and fear, and that excluding transgender athletes constitutes sexual discrimination that increases the risk of bullying, harassment and social isolation.
A Long Trail School representative did not immediately respond to HuffPost's request for comment.