The Wall Street Journal editorial board scorches "Dimwit" Republicans locked in a power struggle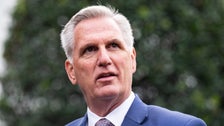 The Wall Street Journal editorial board on Saturday torched "dumb" Republican lawmakers who can't find a way out of a tangled power struggle in Congress between centrists and extremists.
"Republicans are the gang that couldn't shoot straight — except at each other," scoffed an editorial in the paper.
"Too many Republicans in the House of Representatives are too imbecile to understand how to use and wield power," argued the Journal. "They would rather rage uselessly against the machine."
While House Democrats effectively engineered a "seamless" transition after the election, Republicans "can't even find the votes to elect a GOP speaker, let alone agree on a budget strategy or much else," according to the Journal.
Kevin McCarthy (R-Calif.) won the GOP caucus vote to become the GOP leader of the House of Representatives over Arizona Rep. Andy Biggs. But Biggs still plans to run against McCarthy for speaker in the House on Jan. 3. Others could also oppose McCarthy, which could result in "multiple ballots and … even a Democratic speaker," the Journal pointed out, which would be devastating for Republicans.
Senate Republicans, meanwhile, are doing McCarthy "no favours" by joining Democrats in passing a huge omnibus spending bill for fiscal year 2023, according to the Journal. Most House Republicans favor a continued decision to fund the government only until early next year, when Republicans will outweigh the House majority.
This "lack of coordination" between the House and Senate GOPs "does not bode well for a coherent" Republican agenda over the next two years, the editorial warned. Republicans could get so muddled that President Joe Biden and the Democrats could roll them over.